COLOMBO, Jan 13, 2011 (AFP) - Sri Lankan authorities on Thursday said more than one million people had been forced out of their homes by flooding over the last week, as it began distributing emergency food, clothing and bedding.
At least 21 people have died during the monsoon floods, the government said, with the centre and east of the island worst hit.
A spokesman for the disaster management centre in the capital Colombo said the eastern district of Batticaloa, which saw bloody fighting in the civil war that ended in 2009, was badly affected after heavier than usual seasonal rains.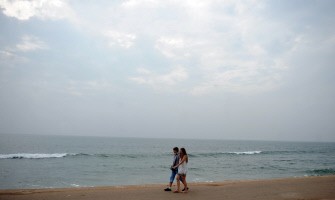 A couple walks on the beach in Colombo on January 10, 2011. AFP
"Some 533,000 people have been displaced in Batticaloa district alone where we have set up 225 camps to accommodate them," the spokesman said, adding that a total of 1,066,000 people have been displaced.
More than 250,000 people have taken shelter in state-run relief camps while the other displaced people have moved to higher ground, often staying with friends or relatives, he said.
Retired school principal K. Ratnavel, 63, said half of the coastal village of Ailadivembu, about 60 kilometres (40 miles) south of the Batticaloa town, was under water.
"My house is under six feet (two metres) of water and I moved into a government building with my wife and three children," Ratnavel told AFP by telephone. "We only have the clothes we are wearing. Everything else is lost."
"There are about 15,000 people at the local council office where we are sheltering and most of them need clothing."
He said many homes devastated by the December 2004 tsunami were affected by floods.
Rising water levels and continued rain have swamped vast tracks of land and cut off villages, television pictures showed.
It is "the duty of all to join hands and help them (the victims) at this hour of need without any discrimination or petty considerations," President Mahinda Rajapakse said in remarks published in the state-run Daily News.
Bad weather forced him to abandon a helicopter tour of flood-affected areas on Wednesday.
Security forces have been assisting the relief operations and 3,000 soldiers have already been deployed in the east. Air force helicopters and navy boats were also helping out, officials said.
Sri Lanka depends on monsoon rains for irrigation and power generation, but the seasonal downpours frequently cause death and damage to property in low-lying areas.
The island's two main monsoon seasons run from May to September and December to February.