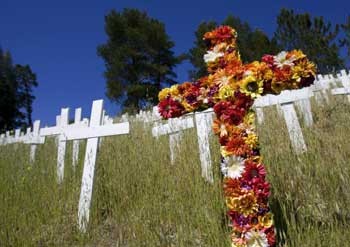 Thousands of crosses stand on a hillside on March 17, 2008 in Lafayette, California in memory of the US troops killed in Iraq. (Photo: AFP)
Private Clifton Hicks reopened painful memories as he recalled how his unit in Iraq had raced out to aid fellow US soldiers who had come under fire, only to have to clumsily sweep up the tragic results of a furious counter-attack.
"A patrol of 82nd airborne infantry guys in Humvees with machineguns on either side were attacked from the left by two or three insurgents," Hicks said, staring vacantly ahead as he gave testimony at "Winter Soldier," organized by Iraq Veterans against the War (IVAW).
"Some of the guys also heard gunfire from the right, where there was housing for disabled families from the Iraqi army. So the whole platoon returned fire in both directions," he said.
Three people at a wedding party inside the house were hit. "An old man was slightly wounded. A girl of 10 was slightly wounded. A girl of six was dead," said Hicks.
"She had been shot by a bunch of teenage American kids."
The 82nd left Hicks's unit to call the casualties in to the tactical operations center. "They told us: 'Charlie Mike.' That's military jargon for continue mission," he said.
"We had fired automatic weapons into the middle of a wedding party, wounding and killing several guests, and we were told to drive away and forget about it."
Hicks was one of scores of US soldiers who, on the eve of the fifth anniversary of the US-led invasion of Iraq, delved into wounded memories and gave testimony at "Winter Soldier" about what they had seen and done in Iraq.
Their stories painted a verbal equivalent of Picasso's Guernica, recounting violence unleashed on civilians on superiors' orders, of corruption eating away at society, of bungled raids and botched counter-attacks followed by succinct orders to "Charlie Mike".
Bombing a village into submission or "free-fire" orders -- carte blanche to open fire on anything and everything -- were not uncommon, the soldiers said, even if both go against the US military's rules of engagement, which state that positive identification is required before an attack is launched.
"Positive identification means you have reasonable certainty that your target is a legitimate military target," former Marine Adam Kokesh said.
Private Steve Casey recalled how his commanding officer once said "there were 'no friendlies'" in a residential area and announced: "Game on, all weapons free."
"I saw personal weapons fired into windshields and radiators of cars," he said, his gaze fixed on a spot on the floor.
The majority of victims of that operation were not the 700-800 enemy combatants claimed by officials but "civilians trying to flee the battleground," he added.
Luis Montalvan, a 34-year-old former captain with a chestful of medals and two Iraq tours under his belt, said he joined the anti-war movement to denounce the statements put forward by high-ranking officials in Iraq, and the rampant corruption.
"General Petraeus and company have done everything they can do to propagate to the American public that 30,000 American troops have brought a reduction in violence," said Montalvan, who left the military last year after 17 years' service.
"They claim a reduction of violence in Baghdad. Well, 70 percent of residents have fled, so no wonder," he said.
He also accused the US of skewing the civilian death toll to give credence to the surge.
"Every time a bomb goes off, the Americans count a smaller number of dead and wounded than the Iraqis. This is to skew the statistics to suggest the surge is successful," Montalvan said.
He added that US generals have no oversight over American contractors in Iraq, some of whom get billions of US taxpayer dollars to procure and distribute weapons for the Iraqi security forces, but refuse to work with US soldiers on the ground.
Montalvan, who is now tied to a cocktail of medications for ailments ranging from post-traumatic stress disorder to chronic pain resulting from an attack, slammed the Bush administration for "perpetrating high crimes and misdemeanors, committing dereliction of duty, lies and mismanagement" in Iraq.
As the medals on his chest caught a glint of spring sunlight, he called on Americans to "vote the right way" in the November presidential election.
"Vote for the candidate who is most likely to extricate us from Iraq," he said.