A suicide bomber rammed into a Russian base killing five people and wounding scores on Sunday in the volatile North Caucasus region of Dagestan, law enforcement sources said.
The explosives-packed car attacked a military base used by the motorized rifle brigade at Dalny near the city of Buynaksk, some 40 kilometres (30 miles) west of the local capital Makhachkala, said the sources, who refused to be identified.
"Five people are dead. Three of them died on the spot and another two in hospital," a law enforcement source told AFP, adding that the blast had hurt at least another 35 people, two of whom were in critical condition.
However, Russia's defence ministry put the death toll at three and said 33 people were wounded.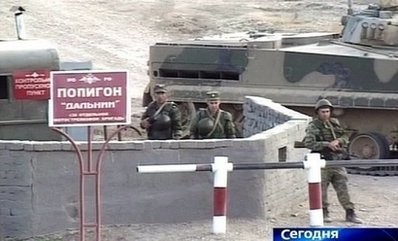 A Russian NTV channel television grab shows Russian soldiers at a check point on the Dalny base.
A ministry spokesman said when the suicide bomber struck at about 00:30 am (2030 GMT Saturday) guards had succeeded in blocking the cars' full-speed accelerations into the base by planting a truck in its path.
"The suicide bombers' uncontrolled vehicle drove into a military truck that blocked off the entrance to the camp. The blast occurred on the outskirts of the camp, which prevented a larger death toll," spokesman Alexei Kuznetsov was quoted by RIA Novosti as saying.
The blast -- of an impact equivalent to up to 100 kilograms (220 pounds) of TNT -- was followed by a second explosion at a highway nearby, where there were no casualties, the agency cited a security source as saying.
Shootings and bomb attacks have become a near-daily occurrence in the mainly Muslim regions of the North Caucasus, where the pro-Kremlin authorities are battling an increasingly deadly Islamist insurgency.
Analysts say poverty and corruption create a fertile ground for violence and help Islamist militants recruit young people in the region, where Russia fought two wars against Chechen separatists since the 1991 Soviet collapse.
On Saturday, a car bomb in Makhachkala wounded a senior Russian official and killed his driver.
In the most deadly recent attack in Dagestan, two suicide bombers detonated explosive belts outside a police station in the town of Kizlyar on March 31, killing 12 people, including a local police chief.
In 1999, a suicide bombing in Buynaksk killed 68 and injured more than 100.