NEW YORK (AFP) – The first trial of a former Guantanamo detainee in a civilian US court began in New York, testing President Barack Obama's pledge to end legal abuses in the war on terror.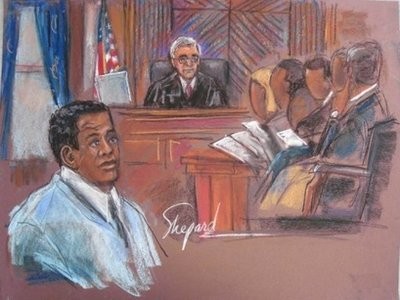 Courtroom sketch shows Ahmed Khalfan Ghailani (L) during jury selection in New York. AFP
Ahmed Khalfan Ghailani, a Tanzanian man accused of a key role in the killing of 224 people during 1998 bombings against two US embassies in Africa, smiled and joked with his lawyers as jury selection got underway in the New York federal courtroom.
A powder-blue V-neck sweater, tie and crisp white shirt emphasized the boyish looks of the man US prosecutors call a former aide to Osama bin Laden and who defense lawyers say was tortured at secret CIA "black sites."
Believed to be in his mid-30s, Ghailani would face life in prison if convicted.
On Wednesday, Judge Lewis Kaplan whittled down a huge pool of prospective jurors, whose anonymity will be guarded throughout the trial.
Opening arguments are expected on Monday, setting the stage for a trial that could take several months and will test Obama's efforts to shut Guantanamo Bay and move terror suspects into the civilian justice system.
Similar plans to send Khalid Sheikh Mohammed, the alleged mastermind of the September 11, 2001 attacks, to trial just steps from his alleged crime in New York had to be put on hold after a furious public backlash over potential costs and security threats.
Despite the public outcry in that instance, Ghailani's trial got underway in a relatively low-key atmosphere.
Although security was tight inside the courthouse in lower Manhattan, near the site of the World Trade Center towers destroyed on 9/11, surrounding streets were filled with the usual number of tourists, workers and local residents. There was no sign of additional police.
In an indication of the sensitivity of the trial, Kaplan repeatedly reassured potential jurors that their names, workplaces and places of residence would not be divulged. They were addressed in the courtroom only by assigned numbers.
"We're trying to make sure no one knows your name or where you live or work, or can figure it out," Kaplan said.
He also stressed the importance of jurors avoiding growing news coverage of the high-profile trial and not discussing it to friends or reporters. "Is anyone so bursting to talk about it that you couldn't stick to the rule?" he asked.
Kaplan explained that he and lawyers from both sides would aim to reduce the jury pool, which began with hundreds of people, to 12, plus reserve jurors, by early Monday.
The weeding-out process began with hundreds of potential jurors answering a lengthy questionnaire, with follow-up quizzes from the judge on Wednesday seeking to establish whether the jurors would have trouble remaining impartial in the explosive case.
"All of you who are not excused today will be asked to return next week for the final stage of jury selection," Kaplan told a batch of 53 potential jurors.
"At that final stage the final jury will be selected. The trial will then start."
Ghailani pleaded not guilty last year to helping set up the truck bomb that devastated the US embassy in Dar es Salaam in Tanzania -- with another bomb going off at the same time at the US embassy in Nairobi, Kenya.
He is also accused of having been a close assistant to bin Laden, the Al-Qaeda chief.
Defense lawyers had tried to prevent the trial, arguing that Ghailani's legal rights were undermined because he was tortured at secret CIA prisons and detained for five years, including at Guantanamo Bay, before his case could be heard in court.
Yet Kaplan rejected that motion.
The government admits Ghailani was subjected to so-called "enhanced interrogation techniques." These sessions amounted to 14 hours over a period of five days, the defense said in a pretrial hearing.