French officials have confirmed the first case of the deadly H5N1 strain of bird flu in their country. Austria has found four wild swans in a southern province probably died of the virus. And India has begun the mass culling of chickens in a western state.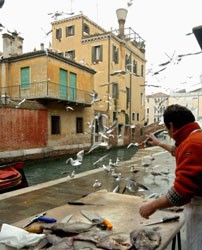 A man feads seagulls on Venice's fishmarket,19 February 2006. Lethal bird flu continued its invasion of Europe on Sunday.
France's Agriculture Minister Dominique Bussereau confirmed Saturday that the dead duck found Monday near the city of Lyon tested positive for the H5N1 strain of avian flu. He stressed that the bird was wild, and that at this point, no poultry breeding farms have been affected. France's announcement came as other countries struggled with outbreaks of the deadly strain.
Austria's Health Minister Maria Rauch-Kallat said Saturday that authorities suspect a dead swan found in the capital, Vienna, and a dead duck in a neighboring village also died of the deadly virus. Last week, Austrian officials said preliminary tests indicated four wild swans found in a southern province probably died of the virus. Authorities have ordered all domestic poultry to be kept indoors to avoid contact with migrating and wild birds.
Meanwhile, India's Agriculture Minister Sharad Pawar said several people are being tested for bird flu. However, there was better news from India where tests showed that a farm worker's death was not due to the most dangerous H5N1 strain of the virus.
Tens of thousands of chickens have died from bird flu in recent weeks in western India. Health teams and farm workers, wearing protective gloves and masks, began culling tens-of-thousands of chickens Sunday, a day after officials confirmed the first case of the deadly H5N1 strain of avian flu in the country.
Officials said more than half-a-million live birds within a three-kilometer radius of the infected farm are being slaughtered, while birds in a radius of up to seven kilometers beyond that will be vaccinated. Poultry trade from the region to the rest of the country has been halted.
But concern is running high in the country, after health officials said that a 27-year-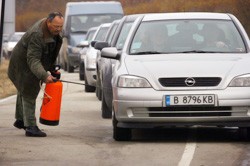 Bulgarian workers disinfect cars at quarantined Shabla Lake, near the Black Sea coast in north eastern Bulgaria, 19 February 2006.
old poultry farmer who died in neighboring Gujarat state might have been infected with the virus. Health officials say several people suffering from flu-like symptoms have been hospitalized for observation. They and the dead man are being tested for the virus.

Since 2003, tens-of-millions of chickens have either been killed by the disease, or culled to prevent the disease from spreading. The virus has infected more than 170 people in that time, killing more than 90 of them, the vast majority in East Asia.
So far, all or almost all the victims have contracted the disease from infected poultry. However, health officials fear the virus might mutate into a form that can pass easily between human beings, which could lead to a global pandemic threatening millions of human lives.

Source: AFP, VNA, VnExpress