More than 50 heads of state from the developing world met in Egypt on Wednesday to tackle the fallout from the global economic meltdown on their nations.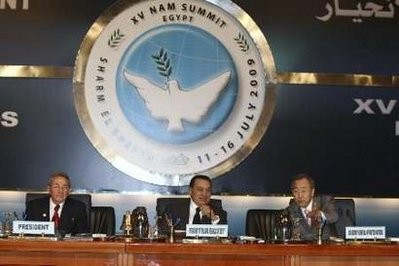 Cuban President Raul Castro (L), Egyptian President Hosni Mubarak (C) and United Nations Secretary-General Ban Ki-moon attend the Non-Aligned Movement (NAM) summit in Sharm el-Sheikh July 15, 2009.
Cuban President Raul Castro called for a new world financial order, saying in a speech at the opening session of the Non-Aligned Movement summit that the financial crisis had hit developing nations the hardest.
"Every country in the world must seek just solutions to the global economic crisis," Castro told the 118-member body at the gathering in the Red Sea resort of Sharm el-Sheikh.
"We call for a new monetary and economic world order... we must restructure the world financial system to take into consideration the needs of developing countries."
The summit will "provide for a chance for discussions over the international economic crisis, which first started in the industrialised countries, and greatly impacted the developing countries, especially Africa," Zimbabwe Foreign Minister Simbarashe Mumbengegwi said on Tuesday.
He said industrialised states "should not be given free rein to manage such a crisis."
Egyptian Foreign Minister Ahmed Abul Gheit said on Monday the summit aimed for "a new international order... in which nations (are not judged) by their size or military and economic capabilities."
Founded in 1955, NAM's 118 member states represent around 56 percent of the global population. NAM states consider themselves not formally aligned with or against any major power bloc.