For the few dozen Filipinos living on a remote speck of land in the South

China

Sea, each day is a battle against loneliness but also a love affair with nature.
Contact with the outside world is limited and comforts are few for the residents of "Freedom" town, which exists mainly to raise the Philippine flag and fend off the other claimants to the Spratly islands.
"People here just play billiards, ping-pong. We have no markets and no malls. You need a special mindset to stay here," said Eugenio Bito-onon, 55, mayor of the town of Kalayaan, the Filipino word for freedom.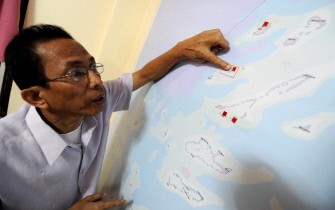 Lifestyle-Philippines-China-Spratlys-diplomacy by Mynardo MacaraigKalayaan Mayor Eugenio Bito-onon points to a map showing the island of Kalayaan, which means Freedom in the Filipino language, that was created in 1978 mainly to assert the Philippines' claim to the disputed territory in the Spratlys
Bito-onon, who initially went to Kalayaan in 1997 to work as a town planner, said he learned to cope by playing guitar, watching videos and simply walking around the small islands surrounded by the purest blue ocean waters.
"I love the beauty of the place. It is so peaceful," said the deeply suntanned Bito-onon while on a visit recently back to Puerto Princesa, the nearest major Philippine city on Palawan island.
Kalayaan was created in 1978 mainly to assert the Philippines' claim to the the Spratlys, a group of more than 700 islets, reefs and atolls in the South China Sea that is believed to sit above vast natural resources.
The Philippines, China, Vietnam, Malaysia, Taiwan and Brunei claim all or part of the Spratlys, part of a broader territorial dispute across the South China Sea.
Most of the other claimants have a presence on some of the other islands in the Spratlys to help boost their positions.
But the Philippines insists Kalayaan -- which covers five islands, two sandbars and two reefs -- has the only functioning local government of its own in the Spratlys.
Regional tensions in the long-running territorial dispute have flared again in recent months, with the Philippines accusing China of taking increasingly aggressive actions in the Spratlys and nearby waters.
But Bito-onon said the diplomatic tensions barely affected the residents, most of whom live on the 37-hectare (91-acre) island widely known as Thitu, which the Philippines calls Pagasa, or Hope in English.
Mostly this is because of their isolation.
Pagasa is about 450 kilometres (280 miles) northwest of Palawan, roughly 600 kilometres from Vietnam's coast and more than 900 kilometres from China's nearest major landmass of Hainan island.
Residents or others travelling to and from Pagasa normally have to hitch a ride on a creaking military supply ship that takes seven days to make the journey, according to Bito-onon.
There is an airstrip in Pagasa but it is made mostly of compacted earth and cannot be used when it rains.
Aside from about 100 Filipino soldiers assigned to the area, the town has about 200 registered voters but only about 60 live in Kalayaan at a time because that is all government provisions can sustain, Bito-onon said.
Aside from a few fishermen and construction workers, most residents are government employees and their families who take turns, each serving for about three months on the islands.
Residents are attracted there by the government-provided jobs and housing, as well as the free provisions of essentials such as rice, cooking oil, sugar, noodles and canned food, according to Bito-onon.
Fish are also plentiful in the sea and wells provide residents with more than enough fresh water.
But Bito-onon said it was not easy to get used to the isolation and lack of amenities -- there is no school and no town health worker since the local midwife resigned last year to get married.
"Some people can't take it. They snap and begin talking to the flies or get drunk all the time. They get into fights while drinking," he said.
Although several families have raised children in the islands, they have to be sent to live elsewhere once they are old enough for school.
Bito-onon's wife lives and works in Puerto Princesa. When the couple's two sons were still children, the family would only spend about a month and half together in Kalayaan.
However the pain of separation for Bito-onon is eased because Kalayaan has an administration "extension office" in Puerto Princesa, which the mayor visits frequently.
The island does have satellite television but the satellite discs are slowly being corroded by the sea spray that has already destroyed their solar power generators.
A mobile phone company has struggled to set up services in Pagasa, but Bito-onon said the signal was inconsistent.
He complained that despite the Philippines being the closest of the claimants, its occupied islands were among the least developed in the Spratlys.
Some other islands have strongly built structures with concrete airfields and one Malaysian-held one even has a hotel for tourists, Bito-onon said.
In his "extension office", Bito-onon displayed pictures showing Chinese, Malaysian and Vietnamese-occupied islands with marinas where their ships could take refuge.
Bito-onon hopes that someday he can attract tourists and even investors from the fishing industry to Kalayaan.
But first, the national government will have to upgrade and lengthen the airstrip and build a marina where ships can dock.
In the meantime, Bito-onon and other residents are content to continue enjoying their peaceful solitude.
Construction worker Nonelon Balbontin, 34, said life was much better in the Spratlys than in the chaotic, overcrowded and polluted Philippine capital of Manila where he used to live.
"It is very beautiful. It has a good climate, I have a job there. We have no problems, no sickness, the food is free, paid for by the government," he told AFP while visiting Puerto Princesa.
Balbontin, who also works on Kalayaan's salt-making project, said that in his free time, he caught more than enough fish, both for his family and for sale.
He also plays basketball with the military men assigned at the Spratlys who are eager for any recreation.
At night, he likes to roam around the island to spot sea turtles laying their eggs so he can report them to a local environment officer for tagging and protection