One of Asia's largest film festivals will this year highlight the emergence of commercial Japanese, Chinese and Indian movies along with independent Southeast Asian productions, organisers say.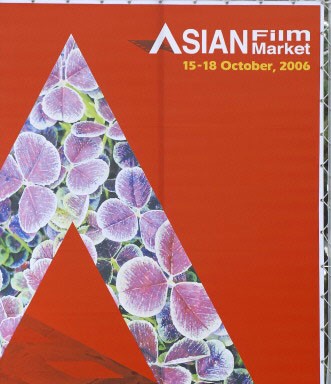 The file picture taken 14 October 2006, shows a bilboard of the Asian Film Market at the 11th Busan International Film Festival (PIFF) in Busan.
The 12th Pusan International Film Festival, which starts in South Korea's southeastern city of Busan on October 4 for a nine-day run, will screen 275 films from 64 countries, they told a press conference late Tuesday.
"Japan, China and India had remarkable achievements last year, their commercial movies standing tall in theatres," said the festival's head programmer Kim Ji-Seok.
"Also, the visible growth of independent movies from the Philippines and Malaysia will be highlighted in this year's festival."
Notable independents will include Filipino Brillante Mendoza's "Foster Child," which tells the story of a foster mother caring for children in the Manila slums, and "Solos," directed by Singaporeans Kan Lume and Loo Zihan.
"Solos" has generated controversy for its depiction of homosexuality, through the story of a teacher-student relationship.
Japanese movies like "The Rebirth" by cult director Masahiro Kobayashi and "Into the Faraway Sky" by Isao Yukisada will highlight that country's film industry, where homegrown movies raked in half the market share last year.
India's industry will be showcased through Santosh Sivan's "Before the Rains," a story of friendship and conflict between a Briton and a local, and Mani Ratnam's "Guru," a more mainstream Bollywood movie about an ambitious man striving to climb the social ladder.
The festival will open with "Assembly" directed by China's Feng Xiaogang, a joint Chinese-South Korean production which features a fallen soldier during the civil war between the communists and the nationalists.
The closing film will be "Evangelion 1.0: You Are (Not) Alone" directed by Japan's Hideaki Anno, Kazuya Tsurumaki and Masayuki.
It is an adaptation of the famous 1995 TV cartoon series "Neon Genesis Evangelion" which features battles to save the Earth.
Eleven films, all to have their international premieres at the festival, will vie for its only competitive prize -- the New Currents Award, which will give three first-time Asian directors 30,000 dollars each.
Organisers have already posthumously selected Taiwan's Edward Yang as the Asian Filmmaker of the Year. Yang, who died in June, won the Best Director Award in Cannes for his 2000 film "Yi Yi: A One and A Two."
His films will be reviewed in a retrospective and his widow Kaili Peng will accept the award on his behalf.