HONG KONG (AFP) – A Bank of Japan move to double the cash available to lenders combined with the US Federal Reserve's announcement it would hold rates at a record low for some time boosted Asian stocks Wednesday.
The BoJ said it would increase to 20 trillion yen (220 billion dollars) a short-term loan facility that other banks could access to free up money as it tries to kick-start a faltering recovery in the world's second-biggest economy.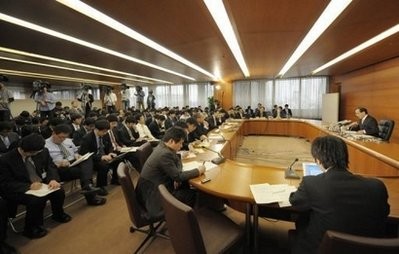 Masaaki Shirakawa (R), Governor of the Bank of Japan (BOJ), delivers his speech during his annual press conference at the BOJ headquarters in Tokyo on March 17. AFP photo
It also said after a two-day meeting that it would maintain interest rates at near-zero percent -- where they have been since December 2008 -- to fight deflation, which is weighing on the nation's rebound.
Tokyo closed up 1.17 percent, or 125.27 points, at 10,846.98, while Sydney also rose 1.17 percent, or 56 points, to 4,853.2. Full Text: Federal Reserve statement
"The central bank's decision is what has been expected... this is giving investors a relief," Shinichiro Matsushita, market analyst at Daiwa Securities, told Dow Jones Newswires.
Hong Kong closed 1.72 percent, or 361.56 points, higher at 21,384.49 and Shanghai added 1.93 percent, or 57.64 points, to end at 3,050.48.
In announcing its decision the Bank of Japan said: "Japan's economy is picking up mainly due to various policy measures taken at home and abroad."
However, it said there was "not yet sufficient momentum to support a self-sustaining recovery in domestic private demand."
"The bank recognises that it is a critical challenge for Japan's economy to overcome deflation and return to a sustainable growth path with price stability," it added, maintaining its earlier view.
"The bank will continue to aim to maintain the extremely accommodative environment."
The BoJ's facility offers three-month loans at 0.1 percent against collateral such as government bonds and corporate debt. However, it surprised markets Wednesday by not extending the loan duration to at least six months.
The BoJ move follows the US Fed's pledge to keep interest rates at the "exceptionally low" zero to 0.25 percent range for "an extended period".
It also upgraded its view of the economy, saying "economic activity has continued to strengthen" while "the labour market is stabilising", a more upbeat description than the phrasing used after its last policy meeting.
Car stocks benefited from the Nikkei's rise, with Honda up 0.15 percent to 3,250 yen despite recalling an estimated 412,000 vehicles in the United States because of problems with "soft" brakes.
Toyota added 0.84 percent to 3,580 yen after soaring 1.28 percent Tuesday as worries slowly receded about recent global recalls.
Wall Street was boosted by the announcement, rising 0.41 percent on Tuesday.
In Europe concerns began to recede for fiscally embattled Greece after Standard & Poor's lifted its threat of an imminent downgrade of the country's debt rating, dealers said.
The international agency maintained Greece's credit ratings, saying Athens' austerity budget was "appropriate" for achieving its 2010 fiscal target.
In Brussels, European finance ministers backed a plan to make emergency loans available to Greece, if needed, to shield the country from bankruptcy, describing the rescue plan as a necessary evil.
The dollar rose to 90.53 yen in Tokyo afternoon trade from 90.28 yen late Tuesday in New York, where it fell on risk appetite after the Federal Reserve's decision.
The euro was quoted at 1.3784 dollars from 1.3774 dollars in New York, while rising to 124.80 yen from 124.30.
Oil was higher, with New York's main contract, light sweet crude for April delivery, gaining 67 cents to 82.37 dollars per barrel, while London's Brent North Sea crude for May delivery was up 47 cents to 81 dollars.
The price of black gold was boosted by a report showing rising demand in the United States, the world's biggest energy consumer.
Meanwhile, oil cartel OPEC is expected to freeze its production ceiling when it meets later in the day, saying it is happy with prices above 80 dollars.
Gold closed at 1,130.00-1,131.00 US dollars an ounce, up from Tuesday's close of 1,112.00-1,113.00 US dollars an ounce.