The dollar fell toward a 15-year low against the yen while world stocks hit a 1-1/2 week trough on Wednesday after the Federal Reserve's assessment of the U.S. economy turned more pessimistic.
The Fed on Tuesday announced plans to use cash from maturing mortgage bonds it holds to buy more government debt, saying the pace of the recovery in output and employment had slowed in recent months.
Investors decided the U.S. central bank's action was unlikely to have much immediate impact on the weak labor market and slow consumer spending, two headwinds impeding the recovery.
"It was probably a reflection of divided perceptions on the outlook. The Fed has done little more in terms of action, other than the gentlest of nudges on the tiller," said Jeremy Batstone-Carr, strategist at Charles Stanley.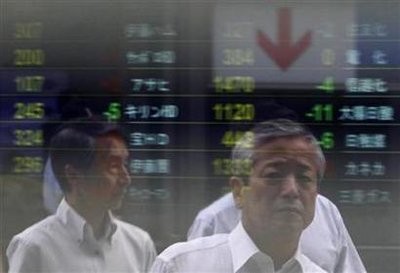 People are reflected on an electronic board displaying share prices outside a brokerage in Tokyo July 6, 2010
"The markets have chosen to focus on the Fed's concerns about growth." The MSCI world equity index fell 0.6 percent while the Thomson Reuters global stock index lost 0.9 percent.
The FTSEurofirst 300 index fell two thirds of a percent. Emerging stocks were down 0.9 percent.
The dollar fell 0.4 percent to 85.13 yen, within half a cent of a 15-year low.
"Given the contrast with the BOJ's decision yesterday, we seem to have entered a situation where the yen is likely to rise," said Akira Hoshino, chief manager for the Bank of Tokyo-Mitsubishi UFJ's FX trading department in Tokyo.
On Tuesday, the Bank of Japan held off on new policy steps to combat a stronger yen, saving its limited firepower in case the currency's rise accelerates and threatens the country's fragile economic recovery.
The U.S. currency recovered, however, against a basket of major currencies to stand up 0.5 percent on the day.
U.S. crude oil fell 0.8 percent to $79.57 a barrel as a rise in U.S. crude imports and lower refinery operating rates raised concerns of a stock build in the world's largest energy consumer.
The bund futures rose 66 ticks.