UN Secretary General Ban Ki-moon was to visit this earthquake-struck Chilean city Saturday to assess its needs as new fears spread among Chileans following three strong aftershocks.
The Navy meanwhile sacked the head of the Oceanography Service, saying he had failed to provide a clear warning of the deadly tsunami that followed Saturday's 8.8-quake, as criticism grew of the official disaster response.
A first 6.2-magnitude aftershock jolted people awake at 6:20 am (0920 GMT), Friday just six days after the 8.8-magnitude quake which, along with the tsunami, left more than 800 people dead and some two million homeless.
That was followed by a 6.8-magnitude tremor -- one of the strongest of more than 200 to rattle Chile since the weekend -- and another measuring 6.6.
Some damaged buildings in Concepcion, the country's second city and worst affected by the big quake, collapsed, but the national emergency services said the aftershocks caused no injuries or serious damage.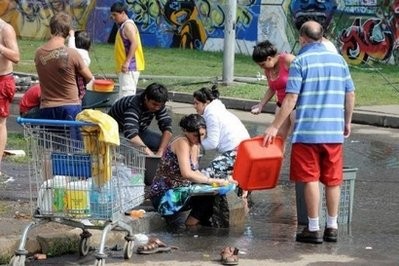 Residents wash clothes in a street in Concepcion, Chile.
Oceanography chief Mariano Rojas was removed from his post on Friday, and the head of the Navy opened an investigation into their response to the catastrophe, an official statement said.
Military officials have admitted making a mistake following the quake.
They said had transmitted "very unclear information" to President Michelle Bachelet on whether to lift or maintain a tsunami alert, as giant waves began crashing into the Pacific coast.
The UN secretary general arrived in the capital Santiago on Friday to assess the damage and meet with Bachelet and president-elect Sebastian Pinera.
Ban pledged 10 million dollars in immediate help from the UN and helped launch a 24-hour telethon Friday night featuring artists and athletes, which aimed to raise 15 billion pesos (29 million US dollars) for disaster victims.
During the telethon, Bachelet rallied Chileans with campaign trail intensity, urging viewers to "join in helping those most in need."
Ban meanwhile, was due to travel Saturday to Concepcion, and was expected to stop in Talcahuano, a port hit by the tsunami.
Although activity in banks and some shops signaled a return to normal in the city of Talca, 300 kilometers (186 miles) south of the capital, some people remained camped outside, and there were protests against government negligence.
A crowd of angry people blew horns and burnt tires in the city center.
"We need help, we need food. The police is not providing security," read one handwritten banner.
In a city suburb, a woman in her fifties, Norma Roco, said: "Neither the authorities nor the government nor city hall, nobody has come to see us here. We have no electricity, no water, nothing to eat. This is why we decided to protest in the streets."
Despite being considered a model of political and economic stability in Latin America, Chile has struggled to cope with the scale of the catastrophe.Related article: Five days after tsunami, food reaches hungry Chileans
The government insisted Friday that it was sending supplies across the country, as well as setting up field hospitals.
It said police had detained 327 people -- many for ignoring curfews -- in efforts to maintain calm in the regions of Metropolitana and Bio Bio.
Tensions flared in the immediate aftermath of the quake and looting became widespread.
Bachelet responded deploying 14,000 troops and broad curfews in the quake region, a move unprecedented since the 17-year military dictatorship of Augusto Pinochet, which ended in 1990.
The Chilean airline LAN announced on Friday it had boosted capacity to 54 percent of its normal operations, after Santiago's international airport was damaged in the quake.
Colombia meanwhile sent supplies and electricity experts to help restore power to damaged areas.
Chile plans three days of national mourning starting from midnight on Sunday, when flags will be hung on front doors out of respect for the dead.
The official death toll stands at 802, although Bachelet has said it includes some 200 people who should still be listed as missing.
Deputy Interior Minister Patricio Rosende said Friday another 173 bodies had been identified, bringing to 452 the number of dead whose remains have so far been identified by relatives or officials.