MOGADISHU, Aug 4, 2011 (AFP) - Islam's holy month of Ramadan should be a time of celebration and prayer, but for Mohamed Idris, a Somali struggling in the famine-hit and war-torn capital, daily survival is all he can care about.
He abstains from food and water in the traditional dawn-to-dusk fast that began on Monday, as Islam requires all able believers to do.
But when the time comes for the traditional evening celebration of delicacies and specially prepared meals, there is still nothing to eat.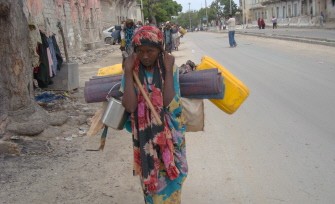 AFP - A Somali displaced woman arrives in Mogadishu on August 3, 2011 after fleeing from southern Somalia regions because of the famine
"Every year I used to be able to break my fast in a very good manner," Idris said, who fled with his wife and three children from the famine-hit Lower Shabelle region into Mogadishu two months ago.
"But not now because the situation is too bad. We don't have food to break our fast with," the 51-year old added.
Idris fled to Mogadishu despite fighting there in search of food, but the situation in the city has since also spiralled into famine.
The UN said on Wednesday that famine has spread to three new regions of Somalia, including Mogadishu and the world's largest camp for displaced people at Afgoye, while warning the situation is likely to worsen.
Conflict-ridden Somalia is the hardest hit by an extreme drought affecting 12 million people across the Horn of Africa.
"My wife and I wait in line for long hours every day for the food that is being handed out," Idris said sadly.
"When we get food from the feeding centre it is not enough -- if we feed our children three times a day, we have nothing in the evening.
"But sometimes we even come back with empty hands, because the food runs out before we reach it. Those days are bad for my family."
Evenings offer no respite for the family of five, who shelter in a cramped hut made from sticks and plastic bags.
The basic hut offers little shelter against torrential rains now lashing the city, adding to the misery of those who have left their homes in a desperate search of food.
In addition, renewed bouts of heavy fighting broke out last week in the city, as African Union-backed government troops battled Islamist Shebab fighters.
But despite the hardship, Idris does find small ways to celebrate.
"My wife and I drink water, and we beg for some dates from neighbours if possible," he said. "Otherwise we stay all night without taking food.
Idris is far from alone -- up to 100,000 have fled the drought into Mogadishu, the UN refugee agency estimates.
Few have proper meals to break the fast, although some wealthier Somalis distribute dates and dry ration like rice during Ramadan.
Al-Qaeda affiliated Shebab militants -- who many blame for exacerbating the drought into famine through its restrictions on foreign aid -- are also providing some dates for people to break their fast with, witnesses say.
But the mood amongst the people is gloomy -- prices of staple cereals have more than doubled from last year.
"It is still just the beginning of Ramadan and there very tough times ahead," said Abdukadir Subow, who fled into Mogadishu.
"Allah will help us get meals to break our fast," the father of six added.
Over a smoky fire, spluttering with wood soaked by recent rains, his wife Mumino struggles to heat up a bowl of porridge made from a handful of sorghum flour.
"This is what we have for the whole day, given to us by ordinary residents," she said, stirring the small meal for her large family.
"This is the worst situation that I have ever passed a Ramadan month," she added.
Unable to celebrate properly, others recount happier times past, when they were able to share special meals to break the day's fast with guests.
"Last Ramadan when I invited guests every day to break their fast with me in my house," said Fadumo Muktar, a mother of two.
"Things are different this year -- we have no spare food or money to have a happy Ramadan."