President Park Geun-hye on Wednesday tapped Kim Byong-joon, who served as policy advisor to late President Roh Moo-hyun as new prime minister in a reshuffle aimed at placating mounting public anger over an influence-peddling scandal involving her close confidante, reported by Yonhap.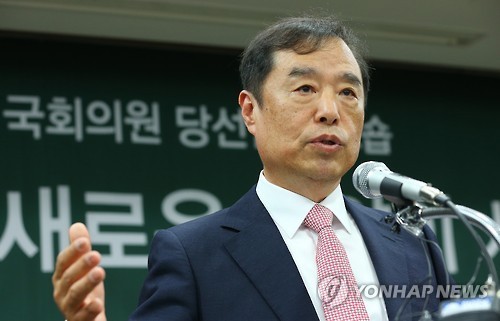 This photo, taken on April 26, 2016, shows Prime Minister-designate Kim Byong-joon speaking during a lecture in Yangpyeong, 55 kilometers east of Seoul. (Yonhap)
Park also tapped Yim Jong-yong, head of the Financial Services Commission, as the new finance minister, a post that doubles as deputy prime minister for economic affairs.
Park Seung-joo, who served as vice gender equality minister under the Roh administration, was named to head the Ministry of Public Safety and Security based on Kim's recommendation.
The prime minister-designate, currently a public administration professor at Kookmin University in Seoul, served as a senior policy aide to the liberal president who ran the country from 2003-2008. Kim also held the Cabinet post of deputy prime minister for education.
"To meet the demands from political circles for a neutral Cabinet, (Park) designated professor Kim who served as a policy chief under the participatory (Roh) government," a presidential official said, declining to be identified.
The premier post requires parliamentary approval.
Another presidential official said the designation of a new prime minister reflects growing calls for a neutral Cabinet, and that the president will delegate some of her executive power related to domestic affairs to the new prime minister.
"Prime Minister-designate Kim can now be seen as having more authority," a presidential official said on condition of anonymity. "As a prime minister, he will have a considerable voice (in state governance)."
The reshuffle, in particular, came amid mounting fears over a possible administrative vacuum with Park's leadership seriously damaged by the swirling political scandal that has prompted nationwide calls for her resignation or impeachment.
On Sunday, Park carried out a partial reshuffle of her office, appointing new secretaries for civil affairs and public relations. She is expected to soon pick her new chief of staff, and two other senior secretaries for policy coordination and political affairs.
Berating Park for abruptly announcing her pick for new prime minister without prior consultation, the three opposition parties, led by the Democratic Party, decided to boycott a parliamentary confirmation hearing on the nominee.
The ruling Saenuri Party, however, said that the designation of the chief government official reflects Park's strong will to "normalize and stabilize" state governance that has been deeply troubled by the scandal.
At the center of the massive political scandal gripping the nation is Choi Soon-sil, whom critics portray as the "eminence grise" of the Park administration.
Choi is alleged to have used her decades-long ties to the president to meddle in state affairs, particularly presidential matters such as Park's wardrobe, public speeches and even the selection of presidential secretaries.
The 60-year-old woman is also suspected of having peddled undue influence in the creation and operation of two nonprofit foundations, dedicated to promoting Korean culture and sports, and of having misappropriated money from these foundations.
In the wake of the scandal, a recent poll showed Park's approval ratings plunging to a woeful single digit.