Debt-laden Greece's eurozone partners are set to endorse a multi-billion euro emergency bailout package on Sunday, after six months of fraught negotiations marked by German reticence.
Rioting in Greece Saturday over tough government belt-tightening piled the pressure on the 15 other countries that use the euro currency to release the rescue funds in a joint deal with the International Monetary Fund.
German Chancellor Angela Merkel however has insisted that this help can't be unconditional, so the desperately needed loans of up to 120 billion euros (160 billion dollars) will be offered in return for more deep cuts in spending and tax rises.
The EU and the International Monetary Fund have asked for Greece to slice 10 percentage points off a public deficit that ballooned to 13.6 percent of output in 2009, according to a German union official.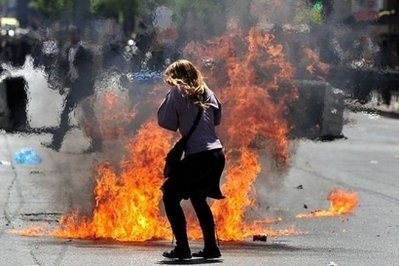 A demonstrator tries to avoid a petrol bomb during clashes between police and demonstrators in central Athens.
A Greek finance ministry source said the deal was finally concluded on Saturday evening after round-the-clock talks in Athens with the European Commission and the IMF.
The cabinet of Prime Minister George Papandreou was due to meet at 9:30 am (0630 GMT) Sunday to announce the deal live on television, a Greek government source told AFP.
Then at 4:00 pm (1400 GMT) in Brussels, the 16 eurozone finance ministers will meet, hoping to formally back the plan.
The sprint to the finish is not only a bid to save Greece from defaulting on its loans but also to ward off speculators, who have begun to stalk other weak eurozone economies, especially Portugal and Spain.
The aim of the special meeting in Brussels is to greenlight three years worth of loans to Greece, two thirds of which were to come from euro partners with the remainder from the IMF.
After the finance ministers back the deal, the plan may still go to euro country heads of government and state -- the German parliament, for example, would have to approve it.
Only then could the money can be physically transferred to Athens.
Greece has warned it is in danger of defaulting on its debts if markets are allowed to sustain their attacks in the run-up to a critical May 19 deadline.
Germany appeared to soften its resistance to a bailout over the past week as the interest Greece has to pay to raise funds shot up to a punitive 10 percent -- twice the five-percent rate expected to be on offer from the EU.
The final deal will force fresh budget cuts on Greece through until 2012, as well as broader structural reforms to its overall economy, described by the European Commission as "fundamental."