A pledge by Spain to cut its budget deficit and positive European economic data eased concerns that the eurozone crisis could hit the global recovery, lifting Asian markets and the euro Thursday.
Sentiment was also bolstered after US shares rallied on data showing exports and imports soared, pointing to continuing improvement in global trade, while a flurry of strong corporate earnings results lifted Japanese shares.
Fears that the eurozone crisis could derail a global recovery eased after Madrid announced deep cuts to public sector salaries, Brussels sought unprecedented powers to scrutinise budgets and Greece received an IMF loan.
"There's a little bit of confidence that perhaps Europe is going to take its medicine and that maybe it's not all just rhetoric," BBY senior institutional trader Peter Copeland told Dow Jones Newswires.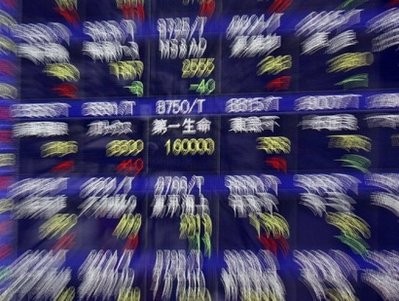 An electronic share price board in Tokyo. A pledge by Spain to cut its budget deficit and positive European economic data eased concerns that the eurozone crisis could hit the global recovery, lifting Asian markets and the euro Thursday.
Hong Kong
ended the morning 1.05 percent higher, while
Singapore
added 0.30 percent.
Sydney rose 1.74 percent, or 79.4 points, to close at 4,652.5, with dealers welcoming news that employment was on the rise.
Tokyo ended 2.18 percent, or 226.52 points, higher at 10,620.55.
Japanese investors were cheered by strong earnings and data showing the surplus in Japan's current account -- the broadest measure of trade with the rest of the world -- reached 2.53 trillion yen (27.2 billion dollars), up 999.6 billion yen from a year ago.
"On top of strong performances in the global market, Japanese corporate earnings are helping today's mood," said Hikaru Sato, senior technical analyst at Daiwa Securities Capital Markets.
Shanghai rose 0.82 percent, helped by banks and telecom stocks amid bargain hunting after recent declines caused by fears that Beijing will move to tighten credit to cool the property market.
"The market has fallen so much, it's only natural that there would be some technical rebound," Qiu Yanying, an analyst at TX Investment, said.
The euro was higher, changing hands at 1.2657 dollars in Tokyo trade from 1.2615 dollars in New York on data showing the eurozone grew by 0.2 percent in the first three months after stagnating in the fourth quarter of 2009.
The ballooning budget deficits and debts of eurozone countries have been under intense scrutiny since the Greek crisis erupted earlier this year, undercutting the value of the euro and rattling world markets.
The European Union teamed up with the International Monetary Fund this week to create a trillion-dollar rescue scheme aimed at shoring up weak eurozone economies, but governments still need to tackle their budgets.
Heightened concern about the risk of contagion from Greece's debt woes have attracted fresh inflows of cash into gold, which set a price record of 1,245 dollars in London Wednesday as investors move out of the ailing euro. It opened at 1,238.00 dollars in Hong Kong
However, in a tough new austerity measure, Spanish Prime Minister Jose Luis Rodriguez Zapatero ordered a 5.0 percent public-sector wage cut.
Spain, saddled with the eurozone's third largest public deficit and seen as vulnerable to the sort of fiscal turmoil afflicting Greece, said it had eased out of recession with growth of 0.1 percent in the first quarter.
Sentiment was helped by data out of the United States showing its trade deficit widened for the second consecutive month in March to its highest level since December 2008.
US exports also jumped to their highest level since 2008 as imports strengthened, with consumers in the world's biggest economy beginning to spend more.
Oil was up. New York's main contract, light sweet crude for delivery in June, turned higher in afternoon trade, rising 11 cents to 75.76 dollars a barrel. Brent North Sea crude for June was up 21 cents to 81.41 dollars.
In other markets:
-- Manila closed 1.78 percent, or 58.28, higher at 3,327.69.
The market is at its highest level for more than 27 months following Monday's relatively peaceful general election.
Top-traded First Gen Corp. rose 7.14 percent to 11.25 pesos while Ayala Land was up 7.27 percent at 14.75 pesos while Aboitiz Power Corp. gained 7.57 percent to reach 17.75 pesos.
-- Seoul closed 1.90 percent, or 31.55 points, higher at 1,694.58.
-- Taipei rose 2.21 percent, or 167.87 points, to 7,770.57.
Cathay Financial was 3.87 percent higher at 51.1 Taiwan dollars while HTC rose 3.85 percent to 432.0.
-- Wellington ended 1.26 percent, or 39.73 points, higher at 3,195.80.
Fisher & Paykel Healthcare ended up 0.6 percent at 3.44 New Zealand dollars and Fletcher Building added 3.1 percent to 8.08.
-- Jakarta was closed for a public holiday.