MUMBAI, Nov 14, 2011 (AFP) - The eurozone debt crisis will hit growth in Asia's developing economies this year and next as the key trade zone cuts back export orders, a senior Asian Development Bank official said Monday.
In September, the bank forecast developing Asia, excluding Japan, Australia and New Zealand, would grow at a rate of 7.5 percent in both 2011 and 2012.
But that estimate may now be unrealistic given the lack of resolution to the eurozone's debt problems, said ADB Managing Director General Rajat Nag.
"7.5 percent (growth) is probably going to turn out to be on the higher side given what's happened since our forecasts and now", Nag told reporters in Mumbai.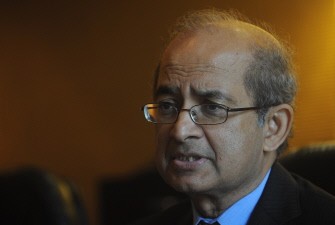 AFP - Rajat Nag, Managing Director General of Asian Development Bank, speaks with reporters at the World Economic Forum - India Economic Summit in Mumbai on November 14, 2011.
Speaking on the sidelines of the India Economic Summit, Nag said it was inevitable Europe's fiscal woes would hurt export-dependent Asia, which ships a large chunk of its orders to the eurozone.
"If euro-growth is compromised," there will be a negative effect on Asia, Nag said.
"How much will depend on how soon the eurozone crisis works itself out," he added.
"But certainly there are very significant worries and significant clouds on the horizon on this."
The Manila-based ADB's Asian Development Outlook Update 2011 in September indicated slower-than-expected growth this year and next, as key trading partners reduce orders due to worries about the global economy.
The 7.5 percent forecast was lower than the bank's April estimate of 7.8 percent growth in 2011 and 7.7 percent next year.
Major drivers China and India were expected to grow this year at a rate of 9.3 percent and 7.9 percent respectively and 9.1 percent and 8.3 percent in 2012.
Nag said that while the overall rate of growth in the region was still "healthy", the bank's earlier assessment had been based on the "assumption of orderly resolution" of the eurozone debt crisis.
Moves to replace the leaders of Italy and Greece in recent days, as well as austerity measures that have been put before the parliaments of both countries, were encouraging, Nag said.
But he added that the crisis reinforced how Asian economies need to be more aggressive in implementing institutional reforms as well as developing intra-regional trade.