The wave of selling in world markets is continuing in Europe amid a huge sell-off on Wall Street, fears that Greece's debt crisis is spreading and an uncertain general election result in Britain.
Minutes after the open, the FTSE 100 index of leading British shares was 1.3 percent lower, while Germany's DAX dropped 1.1 percent. France's CAC-40 index fared worse, tumbling 2 percent.
The declines in Europe, accompanied by sharp falls in Asia, come a day after the Dow Jones industrial average closed down 3.2 percent after having at one point plunged 1,000 points, or about 9 percent.
Asian stocks sank Friday following a huge sell-off on Wall Street as fears that Greece's debt crisis could spread to other European nations continued to rattle investors.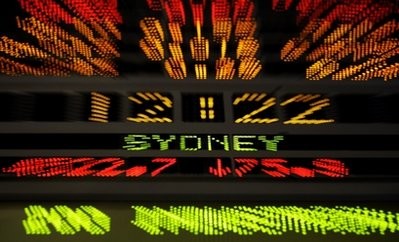 Numbers are streaked across the board at Australian Stock Exchange in Sydney, Friday, May 7, 2010, after the Dow Jones industrials plunged 1,000 points at one point Thursday - the biggest drop ever during a trading day.
Japan's benchmark Nikkei 225 stock average dropped 331.10 points, or 3.1 percent, to 10,364.59, South Korea's Kospi tumbled 2.2 percent to 1,647.54 and Hong Kong's Hang Seng retreated 0.7 percent to 19,993.05. Australia's benchmark shed 2 percent.
The wave of selling in Asia came after the Dow Jones industrial average plunged 1,000 points at one point Thursday — the biggest drop ever during a trading day — because of a possible simple typographical error or computer glitch. The Securities and Exchange Commission said it was reviewing what happened.
The Dow later recovered some of its losses, but still closed down 3.2 percent at 10,520.32 with investors beset by worries that Greece's debt woes could spread to countries like Portugal and Spain and then further afield, undermining the global economic recovery.
"I am very concerned about the Greek problem," Japan's Prime Minister Yukio Hatoyama told reporters as the Nikkei index plummeted in the wake of massive losses overnight in New York.
Japanese Finance Minister Naoto Kan said finance ministers from the Group of Seven nations will hold a teleconference later in the day to discuss the Greek debt crisis.
"Investors are not so sure that the European Union alone can contain the spreading financial crisis," said Masatoshi Sato, market analyst at Mizuho Investors Securities Co. Ltd.
With the Greek crisis hammering global financial markets, the Bank of Japan said Friday it will offer two trillion yen ($22 billion) in short-term loans to commercial banks to boost liquidity.
"We would like to ensure stability in financial markets by providing ample funds to banks," Bank of Japan official Yuichi Adachi said. He declined to elaborate further.
Across Asia, sentiment was downbeat with shares in Taiwan, Indonesia, Thailand and New Zealand all falling sharply. China's Shanghai Composite Index opened Friday down 2 percent but had pared that loss to a fall of 1.5 percent by the afternoon.
Before Thursday's global sell-off, the Shanghai benchmark was at an eight-month low this week on concern government efforts to cool housing prices and a bank lending boom might slow growth and hurt profits at real estate and other companies.
Some analysts said Asian equities may soon rebound since most companies in the region aren't directly exposed to Europe's most struggling economies.
"Chinese exporters are indirectly affected because the European Union is China's biggest trading partner, but none of the listed companies are directly exporting to Greece and Spain," said Peng Yunliang, a strategist for Shanghai Securities. "The panic might not last for long."
In currencies, the dollar rose to 92.18 yen in Tokyo on Friday, up from 90.78 yen in New York late Thursday. The dollar plunged to 87.95 yen in New York Thursday at one point.
The euro, which fell to a 14-month low of 1.2520 on Thursday, rose to $1.2684 on Friday.
Benchmark crude for June delivery was up 10 cents to $77.21 a barrel in electronic trading on the New York Mercantile Exchange. The June contract lost $2.86 to settle at $77.11 on Thursday.