The

Norway

massacres have prompted fresh calls in Europe for tighter gun control, restrictions on sales of explosive material and stepped up online surveillance of extremist groups.
Some governments were already weighing new legislation to guard against the ever-present threat of an extremist attack but many of those measures had stalled.
In the aftermath of Friday's mass slaughter, there have been demands across the continent for more stringent controls to be debated and Norway's neighbours have been among the quickest to act.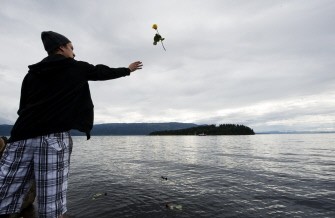 A man throws a rose on July 26, 2011 in the lake Tyrifjorden in Sundvolden facing the Utoeya island in honor of the victims of the July 22 shooting spree at a Labour Party youth summer camp on the island of Utoeya.
According to statistics published Tuesday in the Swedish paper Svenska Dagbladet, weapons prevalence in Scandinavia remains high, with 45 guns per 100 people in Finland, 32 in Sweden and 31 in Norway.
In Sweden, lawmakers from leading political parties called for tougher laws on weapons. Justice Minister Beatrice Ask said "the possibility of introducing new criteria for authorising the carrying of weapons" will be discussed.
Finland had already begun a review of gun control legislation following a series of three shootings over the past five years, which killed a total of 24 people.
But on Monday, deputy commissioner of the Finnish police Robin Lardot said his force plans to boost online surveillance for evidence of emerging extremist plots.
Lardot said Finland already paid attention extremist web traffic, conscious that fanatics often drop online hints about impending violence.
The 1,500-page manifesto posted online by Anders Behring Breivik before he killed at least 78 people was a further reminder that heinous crimes are frequently advertised online, the Finnish officer said.
Germany's top legislative body has also restarted debate on an electronic surveillance proposal that was first floated by Europe following the September 11, 2001 attacks in the United States.
The measure called for telephone communications and online correspondence to be preserved for a period of six months to two years.
The Bundestag had previously passed a law to implement the proposal, but Germany's appeals court quashed it in March last year, saying it was inconsistent with national laws.
These developments come amid calls from the European police co-operation agency, Europol, for countries across the continent to help build and update a profile of European rightwing extremism.
Denmark meanwhile has pledged to review the rules governing the sale of chemicals that can be used to make homemade bombs.
Regulating the sale of the potentially dangerous chemicals was among the provisions set out in a proposal from 2010 European Commission proposal, which also sought to limit weapons sales.
But, member-states were unable to reach a deal on specifics and the accord never came into force.
"Compromises are more easily reached after shocking events like those that happened in Norway," said Michele Cercone, spokesman for Cecelia Malmstroem, the European commissioner for home affairs.