Eurozone governments scrambled to get bailout money flowing to Greece as Athens pressed for huge new budget cuts and braced for strikes, and the markets looked on nervously.
Officials mobilised a day after Eurozone finance ministers approved an unprecedented three-year package of loans for Greece, struggling to shake off a crippling debt and deficit burden.
Of the 110 billion euros (145 billion dollars) to be made available to Greece, the eurozone would provide 80 billion and the International Monetary Fund 30 billion.
In return however, the Greek Socialist government will have to impose harsh austerity measures.
Greece's benefactors had to act fast to get final endorsement for the deal ahead of a May 19 deadline, when the cash-starved nation faces a 9.0-billion-euro debt payment.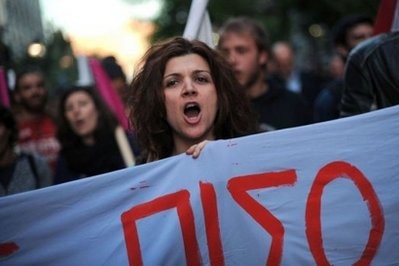 Leftist protesters shout anti-government slogans during a march in Athens on May 3, 2010.
One major hurdle was cleared on Monday when Chancellor Angela Merkel's cabinet endorsed Germany's deeply unpopular, 22.4-billion-euro contribution to the bailout.
Merkel has been faulted elsewhere in Europe for initial reticence over the deal, with her critics accusing her of having put domestic electoral concerns ahead of eurozone solidarity.
But she aims to fast-track final approval for Germany's slice through an accelerated parliamentary procedure by Friday, despite public opposition and with a key regional election looming.
In Helsinki Finland's cabinet proposed a 1.6- billion-euro (2.1-billion-dollar) supplementary budget to cover its share of the rescue.
But in Slovakia, Prime Minister Robert Fico insisted that his government would not consider providing rescue money to Greece unless Athens began to cut welfare spending.
"We can't give Greece any loan before we see them doing their homework," Fico told reporters. Slovakia's share in the loan will exceed 800 million euros, said the country's finance ministry.
France however moved closer to approving its share of the bail-out when its National Assembly approved 16.8 billion euros (22 billion dollars) of financial aid for Greece early Tuesday, after several hours of debate.
The package will go to the Senate later this week, most likely Thursday, where the backing of both the ruling right-wing UMP and the opposition Socialist party should ensure its passage.
Initial market reaction to the weekend deal was sceptical however.
The euro and European stocks fell on investor jitters that the money, even if it was delivered to Greece, would fail to prevent debt contagion from infecting economies in Portugal and Spain.
Most European exchanges later rebounded Monday on upbeat economic news from the United States and a strong start to the trading day on Wall Street.
The euro, however, remained under heavy pressure and fell hard against the dollar, which rose almost a cent against the euro on Monday.
The European currency was down to 1.3195 dollars by 2130 GMT, from 1.3294 on Friday.
But for some analysts, the eurozone governments had only themselves to blame.
"There is little doubt that if eurozone policymakers had acted swiftly to stabilise Greece, contagion would not have reached the nerve-wracking intensity of the last few days," said Marco Annunziata of UniCredit Group.
In Greece itself, the government faces a third general strike in as many months Wednesday in protest at the salary cuts and tax rises the government has agreed to implement.
Starting Tuesday flights in Greece will be disrupted by strike action called by civil aviation staff.
A 48-hour stoppage by the federation of civil aviation associations (OSYPA) is expected to hit dozens of domestic flights ahead of a complete shutdown during Wednesday's general strike, Olympic Air and Aegean Airlines said.
Greece's Socialist government on Monday meanwhile pressed hard for fresh spending cuts and tax hikes worth 30 billion euros (40 billion dollars) over three years.
A day after unveiling plans to cut public sector bonuses, shake up the retirement system and hike sales tax, Prime Minister George Papandreou said the austerity drive would allow "changes that the country has needed for years."
The government aimed to get a parliamentary vote in about a week, a parliamentary source said.
"We need nine billion euros by May 19, it will arrive in time," a Greek official predicted.
Newspapers said the cuts marked the beginning of years of painful sacrifice.
"Our way of life, of working, consuming and organising our lives in this part of the Balkans is finished since yesterday," the pro-governmental Ta Nea newspaper said in an editorial.