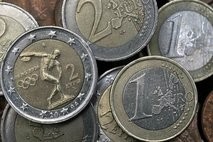 Photo: AFP
PARIS, May 21, 2010 (AFP) - The euro is not in danger, with eurozone member states determined to defend the currency at any cost, French Budget Minister Francois Baroin said on Friday amid deep strains on financial markets.
"The euro is not in danger because there is a real determination on the part of the eurozone countries" to defend the currency, Baroin said.
The 16 eurozone members are "very determined that we will not return to the previous situation," he said, referring to the time when states could devalue their currencies to help their economies but at the cost of lower living standards.
Asked about continued instability on the financial markets where the euro has been under intense pressure, Baroin said Europe would not abandon the single currency.
"We will do whatever it takes to save the (unit) because it belongs to us all, it is our economic tool, our tool for development, because it is the future as far as employment is concerned," he said.
The euro and stock markets have been rocked by concerns a eurozone debt crisis sparked by massive debt and budget deficits in Greece could spread to other member states and so short circuit a tentative economic recovery.