Risk averse investors pushed the euro lower against other major currencies in Asia Thursday as tension in Egypt prompted caution ahead of a meeting of the European Central Bank, dealers said.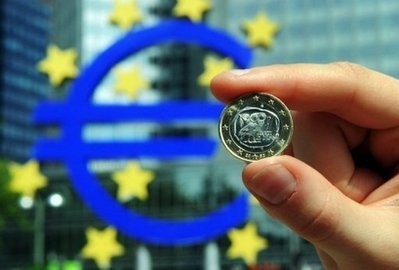 A euro coin is held aloft in front of the headquarters of the European Central Bank in Frankfurt.
The euro fetched $1.3794 in Tokyo afternoon trade, down from $1.3808 in New York late Wednesday and falling away from a near-three-month high of $1.3862 touched in earlier trading.
The euro traded at 112.62 yen, almost flat from New York late Wednesday. The dollar firmed to 81.63 yen from 81.54 yen.
The euro fell as market players adjusted positions ahead of the European Central Bank (ECB) meeting later Thursday.
Investors had previously expected tough rhetoric from the ECB, but the view that the ECB may not be so hawkish is gaining ground, a senior dealer at a major Japanese bank told Dow Jones Newswires.
The euro had recently won support from speculation that eurozone interest rate hikes are likely.
The main ECB interest rate will probably emerge from the meeting of its governing council unchanged at 1.0 percent, a level it fell to in May 2009, economists say.
The euro is likely to also be hit by profit-taking ahead of closely watched US government non-farm payrolls data on Friday, said Satoshi Tate, senior dealer at Mizuho Corporate Bank.
Investors "are likely to take profits after recent gains in the (euro/dollar) pair," he said.
The euro fell back against the dollar after Ireland's credit rating was downgraded one notch by Standard & Poor's, casting a shadow over the eurozone economy.
The dollar also benefitted from safe-haven buying amid heightened tension in Egypt.
S&P on Wednesday reduced its short- and long-term debt ratings for Ireland by one notch, citing concerns about the health of its banking sector.
It simultaneously lowered ratings on four Irish banks -- Allied Irish Banks, Anglo Irish Bank, Bank of Ireland and Irish Life & Permanent.
The move cast a cloud over eurozone efforts to shore up the area's weakest economies through sovereign debt-buying by the Luxembourg-based European Financial Stability Facility.
The dollar was mostly higher against regional Asian currencies, rising to Sg$1.2731 from Sg$1.2724 on Wednesday, to 30.87 Thai baht from 30.83, and to 1,113.60 Korean won from 1,101.70.
It also rose to 9,030.00 Indonesian rupiah from 9,012.75 and to Tw$29.02 from Tw$28.94, while slipping to 43.94 Philippine pesos from 43.99.