A clutch of European Union foreign ministers called for change in

Syria

on Monday, with Britain's chief diplomat telling President Bashar al-Assad that he must reform or stand down
.
"The situation remains very serious and, if anything, is deteriorating," said British Foreign Secretary William Hague.
"It is really up to the Syrian people but I believe he should reform or step aside," he told reporters as he arrived for a meeting with EU counterparts in Brussels.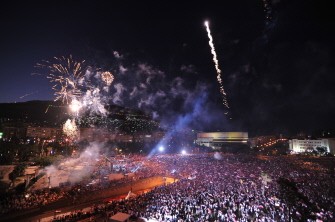 A picture released by the official Syrian News Agency (SANA) shows fireworks as they light up the sky above demonstrators during a pro-government rally in support of national unity in Al-Hijaz area of Damascus on July 17, 2011
The 27-nation EU has slapped asset freezes and travel bans on the Damascus regime, including against Assad, in response to a brutal crackdown on anti-government protests.
"Certainly there will be a time for further sanctions," Hague said.
Swedish Foreign Minister Carl Bildt said Assad's regime had lost credibility and legitimacy.
"It's not a question of personality, it's a question of the regime. The regime has to give way to a new regime, that's fairly obvious. This regime has run its course," Bildt said.
"I can only hope that there will be a national dialogue. I have been impressed so far by the unity and by the non-violence of the opposition. I think that's an encouraging factor," he said.
Luxembourg's Jean Asselborn called on the Arab League to take a leading role in promoting change in Damascus.
"I am not saying that we should ask for a no-fly zone or a military intervention via the Arab League, but the Arab League has an obligation to be more decisive and more involved in Syria to at least stop the shootings against protesters," Asselborn said.
Hague said the EU should work closely with Turkey because it has "more influence on the situation in Syria than many Western nations."
The ministers are expected to adopt a declaration later Monday threatening to impose more sanctions as long as the regime continues to beat and shoot at demonstrators.
The United States incidated last week it was considering new sanctions against the Syrian government.
Activists say the crackdown has left more than 1,400 civilians dead and thousands of others behind bars since protests erupted four months ago.