HELSINKI, March 24, 2010 (AFP) - Eurozone countries must decide on assistance to Greece this week, the European Union's Economic and Monetary Affairs Commissioner Olli Rehn was reported as saying Wednesday.
"The technical preparedness is there. Now we need a political decision. This is also important for Greece, so that it would know what to expect," Olli Rehn told Finland's leading daily Helsingin Sanomat in a joint-interview with Denmark's Politiken and Sweden's Svenska Dagbladet.
"We are at a crossroads. Greece can cause serious damage (to the euro), or we can learn from the crisis," he said.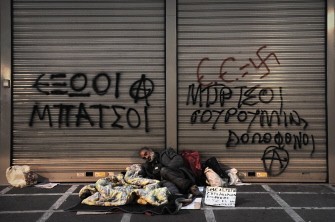 A homeless man sleeps outside a closed bank in central Athens on March 23, 2010. AFP photo
A decision should be made at the EU's two-day summit, which begins Thursday, Rehn was reported as saying.
Several options are on the table for helping Greece out of its debt crisis, with eurozone countries stepping in by offering voluntary bilateral loans seen as one option alongside assistance from the International Monetary Fund (IMF).
"Once a political decision has been made about the mechanism, it could be realised quickly, if needed," Rehn said.
Eurozone economic powerhouse Germany has repeatedly downplayed the need for the bloc to help Athens, arguing that rescuing Greece would take away the incentive for the Greek government to enact reforms to cut its huge puiblic deficit of 12.7 percent of output, or four times the EU limit.
"I understand Germany's concerns," Rehn said, adding that he did not see IMF loans as a problem, as long as the management of the support package to Greece remained with the EU and assistance complied with EU rules.
"The EU is close to the IMF. We are partners," he said.
Burdened by debt of nearly 300 billion euros (402 billion dollars), the Greek government has not ruled out an appeal to the IMF in the absence so far of a clear cut aid commitment from its eurozone partners.
A specially-convened summit of the 16 eurozone leaders was expected to be convened Thursday to thrash out a plan for addressing the crisis ahead of the full summit of 27 EU leaders on later Thursday and Friday.