Basque separatists ETA Sunday called for international mediation and vowed to go further to end a bloody, decades-old conflict, two weeks after Spain rejected its ceasefire for failing to renounce violence forever.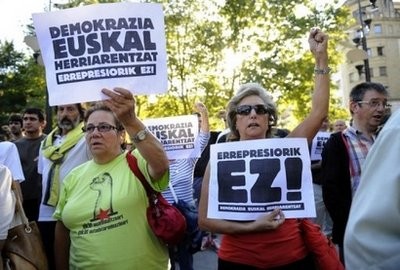 People hold placards reading "Democracy for the Basque Country" and "Stop repression" during a march by Basque nationalists on September 18, in the northern Spanish Basque city of San Sebastian. (AFP Photo)
ETA fighters, blamed for 829 deaths in a flagging campaign of bombings and shootings to secure an independent Basque homeland, issued the offer in a Basque-language communique published in two pro-independence dailies, Gara and Berria.
"If there is a democratic will, it is possible to resolve the conflict here and now," they said.
ETA addressed the communique to international mediators, who had called in Brussels in March for the group to declare a "permanent, fully verified ceasefire" and had expressed hope for a resolution if Spain responded.
"We are ready to study jointly the steps that should be taken, including commitments that should be taken by ETA," the group said, according to excerpts translated into Spanish by domestic media.
ETA thanked and paid respect to the mediators who signed that declaration, but did not reply specifically to their demand for a permanent, verifiable ceasefire.
The armed group reportedly named four of the mediators for future talks: South Africa's Archbishop Desmond Tutu, its former president FW de Klerk, a former Northern Ireland leader John Hume and former Irish Republic president Mary Robinson.
In a September 5 video declaration, ETA said it had decided several months ago to halt armed offensive actions. But the ceasefire was rejected outright by Madrid for failing to promise a permanent end to violence.
ETA criticised the Spanish response.
"It seems that with the armed struggle there is no option, and without the armed struggle there is no need," ETA said.
Prime Minister Jose Luis Rodriguez Zapatero's government refuses to negotiate with ETA unless it abandons the armed struggle, recalling that ETA broke a previous promise to end the bloodshed.
ETA had announced a "permanent ceasefire" in March 2006 and started tentative peace talks with Madrid.
But in December 2006 it set off a bomb in a car park at Madrid's airport, killing two men, and in June 2007 it formally called off its ceasefire citing a lack of concessions by the government in peace talks.
The Spanish authorities believe ETA has been severely weakened since then. Spanish security forces, working in cooperation with other countries, particularly France, have arrested swathes of the top leadership.
In the latest blow on September 14, more than 300 police officers detained nine leaders of Ekin, an ETA support group declared illegal by Spain's National Court in 2007.
"Faced with the stubbornness of France and Spain, ETA has decided again to launch the boat of opportunity for the democratic resolution of the conflict," ETA said in its latest statement.
The group took the decision "without throwing anchor, ready to navigate in deeper waters," it said.
ETA said that to overcome the conflict it was necessary to "go further than partial steps" and to make "a complete proposal".
The fighters called for a "permanent, just and democratic" resolution to the conflict, according to Gara, although they accepted that the key to the solution lay in the Basque country.
ETA's political wing Batasuna, declared illegal since 2003 because of its ties with the group, vowed in February only to use non-violent means and has called on ETA to do the same.
Batasuna wants to return to politics in time to take part with a new ally in Basque and northern Navarra municipal elections next year.