Colourful campaign banners hanging from decrepit cardboard walls lend a lively contrast to the filth of Manila's North Triangle slum as a candidate presses dirty palms for crucial votes.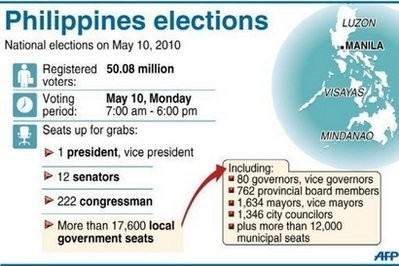 Facts on the May 10 Philippines' national elections. Philippine election officials have insisted that next week's polls will go ahead, amid frantic efforts to replace more than 70,000 faulty memory cards that were to be used in vote counting machines.
As the politician's yellow-clad volunteers spread leaflets around, community organiser Teodosia Gacer ambushes them with a list of what she claims are undelivered promises to the slum's more than 30,000 residents.
"We have not seen you around here since the last election three years ago -- when we helped you win!," Gacer tells the sweating politician, who is obviously embarrassed as a small crowd gathers around.
"You people only come here whenever you need our votes, but disappear on us once you win."
The politician stammers an apology, and whips out a two-page resolution he authored temporarily stopping an impending eviction as proof he had been working on their behalf after all.
Squatting under the shadow of a huge mall and the Philippine capital's overhead railway, the 37-hectare (91-acre) North Triangle in suburban Quezon city is one among many sprawling shanty towns blighting the metropolis.
About 35 percent of Manila's 12-million population live in these colonies, according to the World Health Organization.
Often cursed as a haven for petty criminals and outcasts, these slums are rich in votes and turn into a political force during election season that could make or break a candidate's career.
Politicians have been braving the slums weeks ahead of Monday's national election, when 50 million voters are eligible to pick a new president, members of congress and thousands of other government posts.
In North Triangle, candidates kiss the cheeks of babies swathed in dirty clothes and mingle with men stroking the feathers of their fighting cocks.
"We allow them to come here and hang their campaign materials, regardless of party affiliation. But of course, we vote for those who can protect us," Gacer told AFP.
"Others vote for those who bring blessings," she said, using a euphemism for monetary bribes offered by candidates.
A 54-year-old mother of two adult children, Gacer heads a non-profit organisation that provides basic services and conducts voter education campaigns for North Triangle residents.
She said it was no secret that many slum dwellers sold their votes because money remained their only tangible and immediate benefit.
"The political strategy of (candidates') coordinators is to go on last-minute house to house on the eve of elections," Gacer said.
"They will knock and go inside homes to make sure they get their votes. They place money inside sample ballots. The smallest amount is 500 pesos (11 dollars)."
That is a kingly sum that will go a long way in an area where eating three square meals a day is a luxury.
"That is democracy at work for you. These politicians steal the money from public funds anyway, and we just take a small amount back on election day," Gacer said.
For 53-year-old Rosalinda Caspe the bribe money brings much needed nourishment to her 15 children and grand-children, who live with her in a small, windowless shack.
"Of course I've taken money... life is so hard. I used the money to buy rice and food," the jobless widow said. "My reasoning is, it is the public's money anyway, why should I not accept it?"
She said that in the local elections three years ago, she was paid twice by just tagging along caravans of opposing politicians.
While no politician will openly admit to buying votes, they acknowledge the importance of slum-dwellers to their election hopes.
"I rely on my voters in the squatters depressed areas," Manila mayor Alfredo Lim told AFP while on the campaign trail in the city's Tondo slums.
He said he had never bribed a voter, but estimated that "about 90 percent" of those who will vote for him will likely come from the slums.