At least eight people, including five members of a little league football team, died late Thursday in a road accident in Argentina, the second major crash in as many days, authorities said.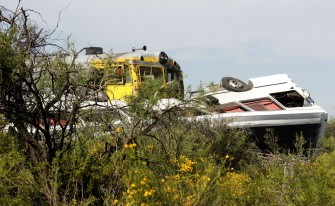 Handout photo released by Roberto Lima a school bus and a freight train after colliding in Zanjitas, San Luis province, Argentina on November 2, 2011
The minibus carrying the children -- all between the ages of six and 10 -- slammed into a truck on a road around 180 kilometers (110 miles) west of Buenos Aires, according to Ruben Golia, mayor of the nearby city of Chacabuco.
Golia, speaking to local television, said another 13 people were injured in the accident, which other officials said took place on a dangerous stretch of a two-lane road that is under construction and heavily used by trucks.
On Tuesday eight people were killed, including seven schoolgirls and the director of a religious school, when their school bus collided with a train in the center of the country.
Last month another collision between a train and a bus in the capital Buenos Aires killed 11 people and wounded another 212