Egyptian pro-democracy leaders plan a "victory march" in Cairo on Friday to celebrate the overthrow of Hosni Mubarak's 30-year rule last week, and perhaps remind the military of the power of the street.
The Higher Military Council which took over after the overthrow of Hosni Mubarak last week is under pressure from activists demanding the release of political prisoners, the lifting of emergency rule and fair elections soon.
Life in Egypt is still far from normal almost a week after the popular revolt focused on Cairo's Tahrir (Liberation) Square, with tanks on the streets, banks closed, workers on strike and schools shut.
"Tomorrow will be a million people march to protect the revolution and its demands," Mohanned tweeted.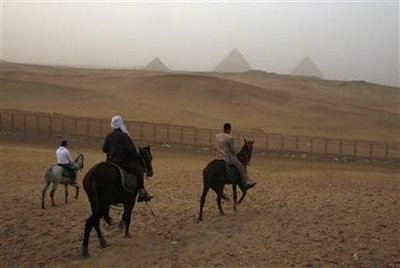 People ride camels near the Giza pyramids February 15, 2011
"We will welcome everyone to the new Egypt. A new country that started in Tahrir square. A country of unity, peace, freedom and justice for all," Laila said on Facebook.
Other groups planned a simultaneous demonstration to "apologize" to Mubarak for the way he was ousted and recognize his achievements in almost 30 years in power. Organizers said the Mubarak sympathizers would be wearing black, with the victory marchers in white.
The marches, starting in different parts of Cairo, were expected to gather momentum after midday prayers. Demonstrations were also likely in the port of Alexandria.
An Islamic website said Egyptian cleric Sheikh Yousef al-Qaradawi, famous for his weekly appearance on Al Jazeera television, might speak in Tahrir Square.
Qaradawi arrived at Cairo airport on Thursday. Onislam.net said he would deliver a sermon telling Egyptians the importance of their role in building a free and democratic society.
The army has kept the population on its side during the turmoil and promised to lift a decades-old emergency law, but is under pressure from activists who spearheaded the revolution to act swiftly to protect civil freedoms in the new Egypt.
An Egyptian prosecutor on Thursday ordered the detention of three ex-ministers and a prominent businessman pending trial on suspicion of wasting public funds.
Suspicions of official graft helped fuel the popular anger that led to Mubarak's overthrow. The charges are seen as a move by the army-led interim government to quell the unrest.
Also on Thursday, Amnesty International called on the military to stop using torture and other ill-treatment.
"The military authorities must intervene to end torture and other abuse of detainees, which we now know to have been taking place in military custody," Amnesty said in a statement.
"Tomorrow in Tahrir, we will press for firm steps against the abuses of the police and the Interior Ministry, we will call for the release of all political prisoners," Wael Khalil tweeted.
OPPOSITION MOBILISES
The army is pledging to hand power to civilian parties when they are strong enough. Opposition forces sidelined or enfeebled under Mubarak's authoritarian rule are beginning to mobilize.
Youth leaders moved to set up a new political party on Thursday. The Muslim Brotherhood, which says it seeks to achieve a democratic Islamic state by peaceful means, is seen as the only truly organized bloc in Egypt and believes it could win up to 30 percent of votes in a free election.
The group has a member on a committee responsible for amending the constitution and a council set up by activists to protect the revolution. It has said it will set up as a political party as soon as laws are changed to let it and others do so.
Inspired by Egypt, and a Tunisian uprising before that, protesters have taken to the streets across the Middle East and North Africa. Bahrain has cracked down on anti-government protesters and clashes were reported in Libya and Yemen.
Iran has created a headache for Egypt's new rulers by saying two of its naval vessels will pass through the Suez Canal, a move Israeli Foreign Minister Avigdor Lieberman, a far-right partner in the governing coalition, called "provocative."
It was not clear when the Iranian ships were due to arrive at the southern end of the Suez Canal. A senior canal official said it had received no notification so far. Any naval crossing needs approval from Egypt's foreign and defense ministries.