The murder trial of Egypt's former interior minister Habib Al-Adly and six of his deputies was adjourned on Thursday to August 14 to allow lawyers more time to review the evidence.
Adly, sentenced in a previous trial to 12 years for corruption, is accused of ordering police to fire on protesters during an 18-day revolt that started on January 25 and toppled the regime.
He is on trial with former president Hosni Mubarak, who made his first appearance in court on Wednesday in a stretcher along with his two sons, who are charged with corruption.
Adly and Mubarak, also charged with premeditated murder, could be executed if convicted.
The next hearing that will look into the charges against Mubarak is scheduled for August 15.
Egypt's press on Thursday captured the nation's incredulity at seeing Hosni Mubarak on trial for murder, hailing the fall of the "Pharaoh" as a triumph for the revolution that ended his 30-year rule.
Pictures of Mubarak lying on a stretcher and dressed in a white prison suit blanketed the front pages of newspapers, six months after the mere mention of his health could have landed an editor in jail.
It was an epic downfall, with the once absolute ruler now a caged invalid, a scene unthinkable before the January 25 revolution.
"The Pharaoh is in the cage," said the independent daily Al-Masry al-Youm, while the state-owned Al-Ahram weekly gasped at "Mubarak's unthinkable end."
"Mubarak in the cage, now the revolution has won," trumpeted the state-owned daily Al-Akhbar, long known for publishing fawning editorials and flattering images of Mubarak.
"Egypt's revolution has won," gloated the independent daily Al-Dustur, whose former editor Ibrahim Eissa was sentenced to six months in jail in 2008 for speculating on Mubarak's health. He was later pardoned.
On Wednesday, Mubarak was flown to Cairo from the Red Sea resort of Sharm el-Sheikh where he had been in custody in hospital being treated for a heart condition.
He is accused of ordering the killing of protesters during the January-February uprising that toppled his regime.
His lawyer Farid al-Deeb had claimed Mubarak suffers from cancer and went into a coma last month, which the hospital treating him denied.
His sons Alaa and Gamal, former interior minister Habib al-Adly and six ex-security chiefs were being tried in the same case.
Businessman Hussein Salem, a close associate of the Mubaraks, is being tried in absentia.
For weeks, it seemed likely Mubarak would be tried in Sharm el-Sheikh, if at all, amid contradictory statements surrounding his health.
The hearing -- with its dramatic images of an ailing Mubarak on a hospital bed -- was aired live on Egyptian television and gripped the nation, and Cairo's usually bustling streets were abnormally quiet during Wednesday's proceedings.
"Just one image of the ousted president, with his bed inside the dock, has changed everything," read the editorial in Al-Masry al-Youm.
"The revolutionaries were reassured about the fact that the process was real and not staged," it said.
But others warned the powerful images should not placate the protest movement that has continued to push for reforms after Mubarak's resignation on February 11.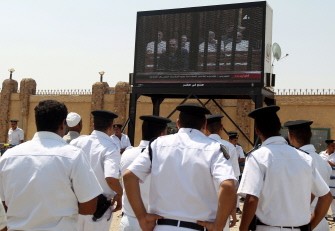 Egyptian policemen look at footage of former interior minister Habib al-Adly on a screen erected outside the Cairo Criminal Court on August 4, 2011
There could be attempts to "silence the Egyptian people through these images, and this is a real danger," said Eissa, now the editor of the independent daily Al-Tahrir, named after the square that was the epicentre of protests that brought Mubarak down.
Some however feel the country's ruling military council, headed by Mubarak's long-time defence minister Field Marshal Hussein Tantawi, could not possibly turn on one of their own.
A cartoon by political satirist Carlos Latuff depicts the trial as a staged affair.
The drawing shows Mubarak on a hospital bed, with camera spotlights shining on him and his lawyer sitting on a director's chair.
"Good, now play victim!," says the lawyer in the cartoon.