The European Bank for Reconstruction and Development said it was no longer considering a 400 million-dollar loan for Sakhalin-2 liquified gas project in Russia now that the state-held firm Gazprom is the majority shareholder.
"Following a significant change in the ownership of the Sakhalin Energy Investment Company, the EBRD will no longer consider the financing package of the Sakhalin-2 project that it had been considering for the past five years," the bank said in a statement here.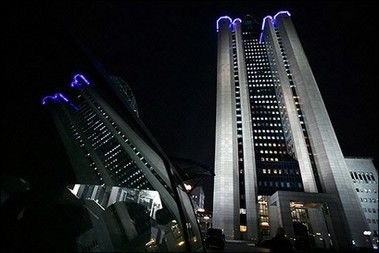 Russia's gas monopoly Gazprom headquarters in Moscow
But the EBRD added that it would be prepared to consider a new funding request from the restructured group of shareholders for the 20-billion-dollar project.
"If the new group of shareholders were to request it and make a case that the project could be eligible for EBRD investment, the bank could consider financing in the future."
But it said that "the closer the project comes to completion ... the less value EBRD financing could add."
Anglo-Dutch oil and gas major Shell announced on December 21 that Gazprom, the Russian state natural gas giant, would acquire 50 percent of the shares, plus one, in the Sakhalin-2 project at a cost of 7.45 billion dollars (5.66 billion euros).
The move made Shell and Japanese trading houses Mitsui and Mitsubishi Corporation minority partners in the energy project, which is based on an island off Russia's far eastern coast.
With the new shareholding arrangement, Sakhalin-2 no longer appeared to fit the category of projects usually financed by EBRD, which since 1991 has helped former Soviet bloc countries make the transition to market economies.
It normally finances new private firms rather than state-run projects, which Sakhalin-2 effectively became under Gazprom, controlled by the Russian government.
EBRD head Jean Lemierre told a press conference in London that the bank had not been surprised by Russian state's move to take control of the project and its financing for other enterprises in Russia and other former communist countries was not affected.
The bank made about one third of its investments last year in Russia, and the Russian share of its investments is set to increase in 2007, the EBRD statement said.
He noted that Russia has welcomed foreign investment in other key sectors, citing aviation projects and automakers. "In most sectors it works quite well," Lemierre said.
The EBRD had been in talks with Shell, Mitsui and Mitsubishi about providing a loan of 300 to 400 million dollars for the 20-billion-dollar project but had balked when environmentalists alleged damage to local flora and fauna.
The sale to Gazprom came after Russian authorities threatened to halt the project, from which the government was unlikely to get revenue for many years due to cost overruns, over alleged environmental violations.