US Secretary of State Hillary Clinton said Saturday that a recent surge in tensions over the South China Sea threatened regional peace, while warning against force to solve the dispute.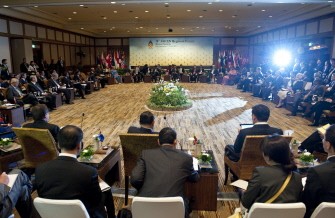 Foreign ministers and government officials attend the US-Association of Southeast Asian Nations (ASEAN) Regional Forum (ARF) in Nusa Dua on Indonesia's resort island of Bali on July 23, 2011.
"The United States is concerned that recent incidents in the South China Sea threaten the peace and stability on which the remarkable progress of the Asia Pacific region has been built," Clinton told a security forum in Indonesia.
"These incidents endanger the safety of life at sea, escalate tensions, undermine freedom of navigation, and pose risks to lawful unimpeded commerce and economic development."
In prepared remarks to foreign ministers at the ASEAN Regional Forum, Clinton also warned all of the rival claimants to the strategically vital South China Sea against using force to bolster their positions.
"Each of the parties should comply with their commitments to respect freedom of navigation and over-flight in the East Sea in accordance with international law, to resolve their disputes through peaceful means, without resorting to the threat or use of force," she said.
China, the Philippines, Vietnam, Malaysia, Brunei and Taiwan have overlapping claims to all or parts of the sea, including hundreds of islets and reefs mostly located in the Paracel and Spratly archipelagos.
The sea is believed to be extremely rich in oil and gas deposits, as well as being home to shipping lanes linking East Asia with Europe and the Middle East that are vital to global trade.
The area has long been considered one of Asia's potential military flashpoints, and in 1998 Vietnam fought a brief naval battle with China on one of the reefs.
In recent months, the Philippines and Vietnam have expressed anger over what they call China's increasingly aggressive actions in the sea, such as harassing fishermen and oil exploration vessels.
Philippine Foreign Secretary Albert del Rosario said in Bali on Saturday his country had "suffered at least seven aggressive intrusions" in the disputed waters since February.
These included Chinese forces shooting at Filipino fishermen, deploying navy patrol boats to intimidate an oil exploration vessel and placing markers on some of the islets.
Del Rosario said China's actions appeared motivated by a hunger for the region's natural resources, and were heightening fears about how the country intended to treat its neighbours as its military and economic might expanded.
"I think there is that concern that China is becoming more powerful," del Rosario told AFP.
"We support their progress and their growth. It is good for the region. But at the same time it is our expectation that their strength and their growth and their influence will be exercised in a responsible way."
China has responded to the accusations of aggressive intrusions by insisting it wants to resolve the dispute peacefully, but firmly maintaining all of the East Sea is its sovereign territory.
At a meeting with the 10 members of the Association of Southeast Asian Nations on Wednesday in Bali, China agreed to a set of guidelines setting a framework for an eventual code of conduct for the sea.
China and some ASEAN members hailed this as a breakthrough that would defuse the tensions, however the Philippines has maintained the guidelines lacked teeth and did not specify what territory is in dispute.
Clinton on Saturday praised the guidelines as an "important first step", but called on all parties to work more quickly towards achieving a final diplomatic solution.
"The United States encourages all parties to accelerate efforts to reach a full code of conduct in the East Sea," Clinton said.
Clinton also emphasised the United States had a "national interest" in the East Sea, repeating a line that angered the Chinese at the last ASEAN Regional Forum a year ago in Hanoi.