Voting began on Thursday in Iraq's general election with security forces, the sick and prisoners casting their ballots ahead of polling day at the weekend.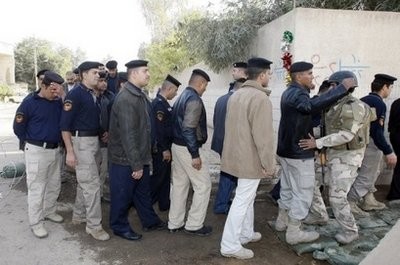 Iraqi policemen and soldiers are searched by security forces outside a polling station in Baghdad. (AFP Photo)
Election organisers expect around 800,000 people, who will not be able to go to polling stations on Sunday, to take part in the early voting session.
Security was tight in the centre of the capital and security forces closed down streets around polling stations.
Soldiers and policemen, hospital staff and the sick, and prisoners with less than five years left in jail are eligible to vote. The latter three groups are set to vote in their hospitals or prisons.
"I cannot reveal his name, but he is secular," said Nidhal, a nurse at Baghdad's Abid al-Haitham hospital, when asked who she had voted for. Her finger bore an ink stain, indicating she had cast her ballot.
"I hope deep down in my heart that he will win, because Iraq cannot be governed by Islamists and we need a saviour."
Almost 19 million Iraqis, from a population of 30 million, are eligible to vote at 10,000 polling stations around the country, with 6,200 candidates standing for the 325 seats in parliament.
Iraqi expatriates will begin voting in 80 cities across 16 countries on Friday, a process that will continue until Sunday. Iraq's electoral commission says 1.4 million people are eligible to vote abroad.