Democratic People's Republic of Korea (DPRK) and the United States have "significantly narrowed" differences blocking progress on a nuclear disarmament deal, Republic of Korea's foreign minister said Monday.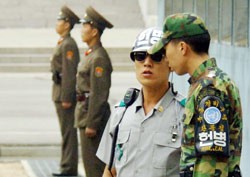 File photo shows RoK (R) and DPRK (rear) soldiers standing guard at the border village of Panmunjom, in the Demilitarized Zone (DMZ) dividing the Korean peninsula.(Photo: AFP)
Yu Myung-Hwan called for six-nation negotiations aimed at denuclearising DPRK to resume by May and to produce tangible progress by August.
Top US negotiator Christopher Hill and his DPRK counterpart Kim Kye-Gwan met in Singapore last week to discuss disputes over DPRK's promised nuclear declaration.
The United States says the declaration should answer suspicions about an alleged secret uranium enrichment programme and about suspected nuclear proliferation to Syria. DPRK denies both charges.
"It is true that the United States and DPRK have significantly narrowed their differences over the two issues," Yu told a briefing, without elaborating.
He said the six-party negotiations "should resume no later than late May in order to have consultations about the phase for dismantling and the issue of inspections."
"The momentum for the six-party talks can be maintained if we reach a tangible agreement on Phase Three before August."
The talks -- which group the US, the two Koreas, China, Japan and Russia -- reached a deal last year which would grant DPRK energy aid and major diplomatic and security benefits in return for full denuclearisation.
The current phase required it to disable its main plutonium-producing plants and declare all nuclear activities by the end of last year.
Phase Three would involve tearing down nuclear plants instead of just making them unusable and handing over all nuclear stockpiles and weapons.
Numerous media reports say that under a pending deal, the state would only "acknowledge" concerns about uranium and proliferation in a secret side-agreement. The main declaration would deal only with the acknowledged plutonium-based weapons operation.
A DPRK foreign ministry spokesman said last week the Singapore meeting produced an agreement on its promised nuclear declaration and also on "political compensation" from Washington.
The North demands that the US start the process of removing it from a list of state sponsors of terrorism in return for a declaration.
"In order for the US side to get DPRK off the US terrorist list, a report should be submitted to Congress 45 days in advance," Yu said.
US Secretary of State Condoleezza Rice denied Friday that the deadlock had been broken yet.
"We are not yet at a point where we can make a judgement as to whether or not the DPRK have met their obligations," she said.