BANGKOK, July 3, 2011 (AFP) - Thailand voted Sunday in a hard-fought election pivotal to the future of the divided kingdom after years of political turmoil pitting the ruling elite against the disaffected rural poor.
The poll is the first major electoral test for the government since mass "Red Shirt" opposition protests paralysed Bangkok last year, triggering a military crackdown that left more than 90 people dead.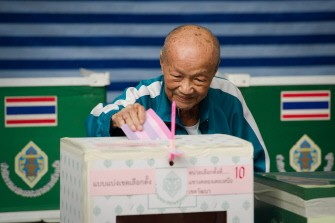 AFP - An elderly man casts his vote at a polling station set up at the Sawadee school in Bangkok on July 3, 2011.
More than 170,000 police are being deployed to protect polling stations for the tense vote, which could herald a comeback for the Red Shirts' hero, the fugitive former premier Thaksin Shinawatra.
Countries including Australia, Britain and Japan warned their citizens to be on guard for possible violence.
Toppled in a 2006 military coup and now living in self-imposed exile in Dubai to avoid a jail term for corruption, former billionaire telecoms tycoon Thaksin has tapped his youngest sister to run in his place.
Yingluck Shinawatra, a telegenic businesswoman tipped by many to become Thailand's first ever female prime minister, is a 44-year-old political novice described by Thaksin as his "clone".
Polls have shown the mother-of-one enjoying a comfortable lead over the ruling Democrats, led by Prime Minister Abhisit Vejjajiva, who is fighting for his political life after less than three years in office.
Yingluck was one of the first to vote at a school in Bangkok where she smiled and showed her ID card to the television cameras before casting her ballot.
Abhisit later visited a polling station near his home with his wife and daughter, a first-time voter.
"I urge all eligible voters to come out and cast votes quickly because this election is very crucial for our country," he told reporters afterwards.
Abhisit has accused the opposition of trying to "whitewash" its fugitive leader's crimes, urging voters "to get rid of the poison of Thaksin."
The ex-leader remains a hugely divisive figure, adored by millions of rural voters but hated by the ruling elite who see him as corrupt, authoritarian and a threat to the revered monarchy.
The opposition Puea Thai party has proposed an amnesty for convicted politicians if it wins -- a move apparently aimed at bringing Thaksin home, where he faces terrorism charges in connection with last year's protests.
Many doubt the Bangkok-based elite in government, military and palace circles would allow the one-time owner of Manchester City football club to come back as a free man.
If Thaksin tries to return the army may "strike back", said Thai academic Pavin Chachavalpongpun, of the Institute of Southeast Asian Studies in Singapore.
"If he sets foot in Thailand the military could accuse him of coming back and trying to create disunity among Thais."
The military is a constant wildcard in a nation that has seen almost as many coups as elections, although experts say it will be harder for the generals to justify another intervention if Puea Thai scores a big victory.
The judiciary also has a record of banning political parties and their executives. Thaksin or his allies have won the most seats in the past four elections, but the courts reversed the results of the last two polls.
In contrast Abhisit's Democrat Party has not won a general election in nearly two decades.
The Democrats, the country's oldest party, have traditionally enjoyed solid support in Bangkok and the south, but polls suggest its popularity is fading even in such traditional strongholds.
"I voted for number one (Puea Thai) because I think their policies can solve Thailand's problems," 37-year-old Sainampueng, who did not want to give her full name, said after casting her ballot in the capital.
British-born Abhisit took office in a 2008 parliamentary vote after a court ruling threw out the previous administration, and he is accused by his foes of being an unelected puppet of the military and the establishment.
The vote is seen as a major test of the kingdom's ability to emerge from its long political crisis, which has seen years of street protests by Thaksin's "Red Shirt" supporters and the rival "Yellow Shirt" royalists.
Revered King Bhumibol Adulyadej, 83, is seen as a unifying figure in a country often riven by violence, but he has been in hospital since September 2009.
Political parties have taken to online social networking like never before to reach voters, but police have warned anybody caught campaigning on sites such as Facebook or Twitter on election day risks six months in prison.