Discovery, NASA's oldest and most journeyed space shuttle, is poised to launch Thursday on its final mission, wrapping up a near three-decade legacy of orbital travel.
When the storied spacecraft lifts off at 4:50 pm (2150 GMT), it will mark the beginning of the end of the US space shuttle program, with Discovery the first of the remaining three shuttles headed for retirement this year.
The closure of the US shuttle program will leave a gaping hole in the American space mission, and leaves astronauts to rely on the Russian Soyuz space capsule for transport to the orbiting International Space Station.
But concerns for the future were brushed aside as excitement mounted at Kennedy Space Center for Discovery's mission, with technical checks moving along smoothly and no hint of the fuel tank woes that delayed the launch in November.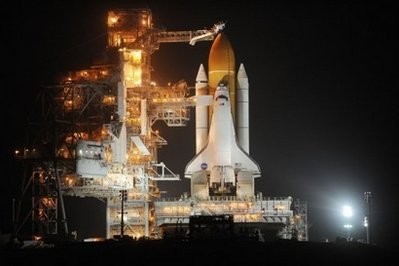 The US space shuttle Discovery at the Kennedy Space Center in Florida. Discovery, NASA's oldest and most journeyed space shuttle, is poised to launch Thursday on its final mission, wrapping up a near three-decade legacy of orbital travel
"Everything is on track and going beautifully with the countdown," said mission management team director Mike Moses. "We're really looking forward to a very action-packed, successful mission."
Cracks on Discovery's external fuel tank emerged just before launch more than three months ago, causing engineers to puzzle for many weeks over the cause and how to fix it.
In January, engineers agreed that installing small metal strips, called radius blocks, on the 6.7 meter- (22-foot-) long U-shaped aluminum brackets, called stringers, would reinforce their strength.
Shuttle launch director Mike Leinbach said the teams preparing Discovery this time had found "no problems at all" as they count down toward lift-off.
"We're not tracking any issues and it looks like Discovery will fly this time," said Leinbach.
The rotating service structure around Discovery was rolled away on Wednesday evening, revealing the shuttle on the launch-pad for the first time.
The six-member crew of astronauts headed to bed at 11 pm (0400 GMT) and were to awaken at 7:00 am (1200 GMT) for the launch Thursday, NASA said.
The loading of the external fuel tank was to begin at 7:25 am (1225 GMT). The astronauts were expected to board the shuttle at around 1:35 pm (1835 GMT).
The mission will be led by commander Steven Lindsey, pilot Eric Boe and astronauts Alvin Drew, Michael Barratt, Steve Bowen and Nicole Stott.
Astronaut Tim Kopra was scratched from the crew list after a bicycle accident in January. He was replaced by Bowen.
The crew plans to deliver the Permanent Multipurpose Module, with extra storage space and an area for experiments, as well as some spare parts and the Express Logistic Carrier, an external platform for large equipment.
The shuttle is also to bring the first humanoid robot to the ISS. The Robonaut 2, or R2, is a joint project of General Motors and NASA and will stay behind when Discovery leaves as a permanent resident of the ISS.
The weather forecast -- clear skies, sunshine and a mild breeze -- was considered exceptionally good with only a 20-percent chance of conditions that could delay the launch, NASA weather officer Kathy Winters said.
Discovery first flew in 1984. Final flights for the other two remaining in the fleet, Atlantis and Endeavour, are scheduled for later this year.
Endeavour is set for its final takeoff on April 19 and a last mission for Atlantis is scheduled for June 28, though funding for Atlantis remains in question.
There were initially five space shuttles in the fleet -- Challenger exploded shortly after liftoff in 1986 and Columbia disintegrated on its way back to Earth in 2003.
The sixth shuttle, Enterprise, did test flights in the atmosphere but was never flown into space. It is already on display at a museum outside Washington.