Leaders of the developing world were in Egypt on Wednesday for the summit of the Non-Aligned Movement (NAM) to discuss the effect of the global financial crisis on their countries.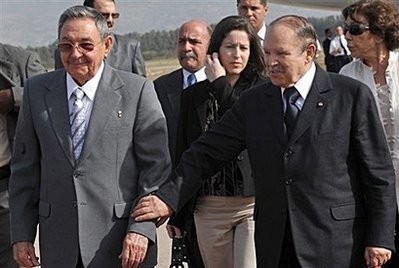 Algerian President Abdelaziz Bouteflika (R) welcomes his Cuban counterpart Raul Castro (L) upon his arrival at Houari Boumediene Inetrnational airport, in Algiers. (AFP Photo)
Cuban President Raul Castro will address the opening session of the two-day gathering at the Red Sea resort of Sharm el-Sheikh where Egypt will take over the chairmanship of the 118-member movement from Cuba.
The summit will "provide for a chance for discussions over the international economic crisis, which first started in the industrialised countries, and greatly impacted the developing countries, especially Africa," Zimbabwe Foreign Minister Simbarashe Mumbengegwi was quoted by the official MENA news agency as saying.
He said industrialised states "should not be given free rein to manage such a crisis."
On Monday, during preparatory talks, Egyptian Foreign Minister Ahmed Abul Gheit said the summit aimed for "a new international order... in which nations (are not judged) by their size or military and economic capabilities."
Delegates at Monday and Tuesday's preparatory ministerial meetings indicated to AFP that the new US administration's departure from a policy of unilateral diplomacy could help to achieve that goal.
Prime Ministers Yousuf Raza Gilani of Pakistan and Manmohan Singh of India are to meet on the sidelines amid hopes of a resumption of peace talks between the arch-foes, who have fought three wars.
Their meeting would be the second high-level talks since relations soured after last year's attacks in the Indian commercial capital Mumbai which killed 166 people and were blamed on the banned Pakistani militant group Lashkar-e-Taiba (LeT).
India wants Pakistan to take action against those behind the attacks before resuming a fragile peace process launched in 2004 that was frozen after the deadly assaults.
India, along with host Egypt, is a founding member of the NAM. The largest grouping of countries outside the United Nations, it is aimed at giving a voice to the developing world.
Founded in 1955, NAM's 118 member states represent around 56 percent of the global population. NAM states consider themselves not formally aligned with or against any major power bloc.
Set up during the Cold War, the movement sought to distance itself from both the Western and Soviet blocs, but today its raison d'etre is questioned after the collapse of the Soviet Union and the ensuing shift in power politics.
NAM heads of state and government meet every three years. The next meeting will be held in Iran.
The movement groups 53 states from Africa, 38 from Asia, 26 from Latin America and the Caribbean, and just one from Europe -- the former Soviet republic of Belarus.
It has 16 observer countries and nine observer organisations.