PODGORICA, March 15, 2010 (AFP) - Former Thai premier Thaksin Shinawatra, on the run from corruption charges, was spotted in the Montenegrin town of Budva this weekend, a local TV station reported Monday.
Thaksin was seen in coastal Budva's medieval old town on Sunday, enjoying coffee and cakes in one of the area's posh hotel with his entourage, TV Vijesti reported, quoting witnesses.
Police refused to comment the reports.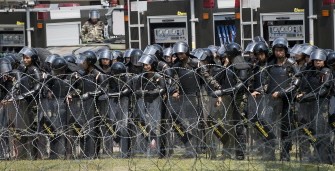 Thai soldiers secure an entrance gate as red-shirted supporters of deposed Thai premier Thaksin Shinawatra (not seen) wave flags and shout slogans during an anti-government protest outside a military baracks in Bangkok on March 15, 2010. AFP Photo
According to press reports Thaksin, a former telecoms tycoon, has a Montenegrin passport but so far officials in this former Yugoslav republic have refused to confirm if he has been given citizenship.
The populist former prime minister was ousted in a 2006, and has been living abroad, mostly in Dubai, to avoid a jail term for corruption.
In Thailand on Monday the current government rejected and ultimatum by tens of thousands of pro-Thaksin protesters who demand immediate elections.
Prime Minister Prime Minister Abhisit Vejjajiva and the rest of the government and the top military brass have taken refuge in military barracks amid fears that the so-far peaceful demonstration by "Red Shirt" supporters of Thaksin could turn violent.