French cinema icons Catherine Deneuve and Gerard Depardieu came together again at the Venice film festival on Saturday as the oddest of couples in a farce with attitude: "Potiche".
Based on a play of the same name, the comedy relates the unlikely transformation of bourgeois housewife Suzanne Pujol (Deneuve) into company executive and her complex relationship with Babin, a dyed-in-the-wool unionist played by Depardieu, 61.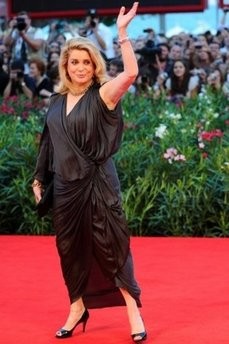 French actress Catherine Deneuve arrives for the screening of Potiche at the 67th Venice Film Festival on September 4, 2010
The title posed a special challenge to translators: they rendered it as "trophy wife" in English -- though the elegant Suzanne is a stay-at-home first wife -- and a sarcastic "my brilliant wife" in Italian.
In any case, Deneuve's character rejects the role and plunges headlong into running her ailing husband's umbrella factory and mollifying the workforce before going on to run for mayor -- against Babin.
"The situation for women has improved, but slowly" since 1977, when the action of "Potiche" takes place, Deneuve told reporters, noting that "men and women are still treated differently today, especially in terms of salary."
The 66-year-old French legend, though clearly at home in the role of Suzanne and a veteran of numerous other comedies, insisted she was not a comic actress.
"It's a genre I like very much which is very difficult," said Deneuve.
Director Francois Ozon, 42, who first worked with Deneuve in "8 Women" the 2002 film that won him international acclaim, said he was surprised to have a comedy selected for the competition.
"In France, people love comedies, but they don't respect them," he said.
Ozon is among several young directors in a decidedly youthful line-up selected by festival chief Marco Mueller for this year's Mostra, which runs through September 11.
The world's oldest film festival kicked off on Wednesday with 41-year-old US director Darren Aronofsky's psychological thriller "Black Swan", while Sofia Coppola, 39, unveiled her father-daughter drama "Somewhere", set in Hollywood, on Friday.
Still to come in the competition for the coveted Golden Lion here is "Promises Written on Water", about a girl with a terminal illness, by 49-year-old Vincent Gallo.
Also in the under-50 crowd is Quentin Tarantino, 47, who heads the jury.
Saturday featured another comedy, "La Passione" by Carlo Mazzacurati of Italy starring the prolific Silvio Orlando.
He plays a washed-up filmmaker forced to set his last-chance project in Tuscany after a plumbing disaster at his country home damages a 16th-century fresco in a neighbouring chapel.
As a bizarre form of compensation, the mayor asks him to lead Good Friday ceremonies -- so the story of the Passion becomes his film, starring a local actor who happens to be an egomaniac.
Mazzacurati said the film offered portraits of "creatures who because of their sensitivity are exposed more than others to life's difficulties."
He added: "Sometimes they make you laugh, but my tendency is to be moved by them."
"Ovsyanki" (Silent Souls) by Russian director Aleksei Fedorchenko is the sombre story of a member of Russia's minority Merya culture who, accompanied by a friend and some caged birds, drives thousands of miles to bury his wife in a sacred lake.
"At first these characters seem simple and common, but in fact they harbour an internal richness that you can see only if you look closely," said Fedorchenko, who won a documentary award here in 2005 for "First on the Moon".
On Sunday, the Mostra, now its 67th edition, will present US director's Kelly Reichart's "Meek's Cutoff" about the American frontier culture; Hong Kong New Waver Tsui Hark's epic mystery film "Detective Dee and the Mystery of Phantom Flame"; and "Post Mortem," set in Chile during the 1973 coup, by Pablo Larrain.