The political and diplomatic crisis around Honduras deepened Saturday after the country's coup leaders announced they were pulling out of the Organization of American States in the face of an almost certain suspension by the international body.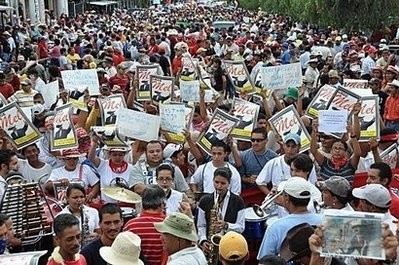 Supporters of ousted Honduran President Manuel Zelaya take part in a rally to protest against the military coup.(AFP Photo)
OAS Secretary General Jose Miguel Insulza said here late Friday that those who ousted President Manuel Zelaya last weekend did not plan to reverse the situation, and denounced a "military coup."
The interm government responded by pulling out of the OAS, a day before the body was due to vote on suspending the Central American country after it refused to listen to its demands to return Zelaya to power.
Honduras "ceases its compliance with the charter of the Organization of American States ... with immediate effect," deputy foreign minister Marta Lorena Alvarado said on national television, standing beside interim leader Roberto Micheletti.
"There is not an institutional crisis in Honduras. It has applied its own law to solve its problems," Alvaredo added.
Soldiers bundled Zelaya into a plane at dawn Sunday and sent him to Costa Rica after a dispute with the country's courts, politicians and army over his attempts to change the constitution.
"They have no intention of reversing this situation," Insulza told a news conference after meeting on the crisis with politicians and legal and religious figures, but not the interim president or attorney general.
A spokesman for the Supreme Court said it had told Insulza that the removal of Zelaya last Sunday was "irreversible."
The provisional government insists that its overthrow of its president was democratic, after the Supreme Court ruled that Zelaya had violated the country's constitution in his bid to try to change it.
"I don't know what you call it when a group of soldiers, sent by soldiers in a military operation, remove a president and send him off in a military plane to another country. That is a military coup," Insulza retorted.
The OAS chief was due to return to Washington on Saturday, where the regional body would vote on whether to suspend Honduras from the 35-nation group -- a threat last carried out on Cuba in 1962.
Insulza "thinks they will vote to suspend (Honduras)," one diplomat said, after the OAS chief met with the G16 group of donors to the Central American nation, which includes the United States, the World Bank and Japan.
"He told us he thought it was a crisis that would last a long time," he added.
The leaders who deposed Zelaya have said they may consider holding early elections to end the impasse, but remained defiant at demonstrations in the capital Friday.
Thousands of Zelaya supporters also demonstrated in Tegucigalpa.
The growing protests, a freezing of international aid and recalls of foreign ambassadors have since shaken the country.
With their lives also disrupted by night-time curfews -- which suspend some freedoms guaranteed by the constitution -- as well as media blackouts and reported detentions, the 7.5 million inhabitants of one of Latin America's poorest countries have become increasingly frustrated.
Nicaraguan President Daniel Ortega said Friday that Zelaya could return on "Saturday or more likely Sunday."
The interim leaders have threatened to arrest Zelaya on his return.
Zelaya meanwhile said Thursday in Panama that a string of personalities would join him when he returned to the country, including Nobel Prize winners and presidents, although he did not mention a return date.
Friends and foes in the international community have joined together to heap pressure on Honduras, including aid freezes from the Inter-American Development Bank and the World Bank.
Venezuela's President Hugo Chavez, Zelaya's key backer, announced that Caracas was suspending shipments of oil to Honduras, which he said would drive up gasoline prices.
All EU countries with embassies in Honduras have withdrawn their ambassadors and Central American countries and Latin American leftists have announced similar measures, as has Colombia.