GAINESVILLE, Florida, Sept 8, 2010 (AFP) - A small Florida church Wednesday shrugged off global outrage and vowed to go ahead with a Koran burning ceremony amid growing fears it will ignite a wave of Islamic rage.
Condemnation rained in from top US officials, the military, the Vatican and other religious leaders, but the church refused to halt plans to torch the Islamic holy book on Saturday's anniversary of the September 11, 2001 attacks.
"As of this time we have no intention of canceling," Pastor Terry Jones told a press conference, adding his evangelical church, the Dove World Outreach Center, had received numerous messages of support.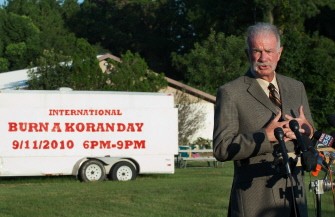 Pastor Terry Jones updates the media on Sept 8, 2010 outside his Gainesville, Florida, church. AFP
Jones had indicated he was praying for guidance on whether to go ahead with the incendiary event after warnings from US Afghanistan commander General David Petraeus that US and allied troops could be targeted in revenge.
"We understand the general's concerns and we are still considering it," Jones said, but swiftly added he had been contacted by a special forces soldier who told him "the people in the field are 100 percent behind us."
The gun-toting pastor, who has received death threats, says the aim of Saturday's three-hour evening event is to send a message to radical Islamists that they must abide by the US Constitution.
"Our burning of the Koran is to call attention that something's wrong. And it is possibly time for us in a new way to actually stand up and confront terrorism," he said.
The planned torching of some 200 Korans -- many of which have been donated to the church -- comes amid an angry debate over plans to build an Islamic cultural center in New York close to where the World Trade Center once stood.
Many fear if the Koran burning goes ahead it will further raise anti-Islamic sentiment.
US Secretary of State Hillary Clinton has denounced the Florida church's plans as "disgraceful," and the State Department sought Wednesday to downplay an event likely to be shown on television screens around the world.
"We hope that the world will appreciate that this is the action of a very small fringe group and does not represent the views of the United States or Americans as a whole," State Department spokesman Philip Crowley said.
UN Secretary General Ban Ki-Moon said he was deeply disturbed by the planned event, with his spokesman releasing a statement saying: "Such actions cannot be condoned by any religion.
German Chancellor Angela Merkel said the move was "abhorrent" and "simply wrong" at an event honoring a Danish cartoonist whose 2005 drawing of the Prophet Mohammed offended many Muslims and sparked protests around the world.
And former Republican vice presidential candidate and leading conservative Sarah Palin also slammed the move as insensitive and a provocation "much like building a mosque at Ground Zero," urging Jones and his church to think again.
"It will feed the fire of caustic rhetoric and appear as nothing more than mean-spirited religious intolerance. Don't feed that fire," she wrote on her Facebook page.
Officials in the small university town of Gainesville -- reluctantly dragged into the global spotlight -- met Wednesday to draw up contingency plans.
City spokesman Bob Woods told AFP that church officials would be violating a ban on open-air burning and would be subject to a 250 dollar fine, if they set fire to the books.
But there is little they can do to stop the event from going ahead, protected as it is by the First Amendment of the US Constitution, guaranteeing freedom of speech.
Fire authorities turned down an application a few weeks ago from Jones to hold the ceremony, and police cannot intervene until they actually light the Korans.
Jones, who has headed the obscure evangelical church since 2001, is also the author of a book entitled "Islam Is Of The Devil."
He has said he wants to honor the memory of the almost 3,000 people killed by Al-Qaeda militants in the 9/11 attacks on the United States.
But the scheme has already inflamed passions in the Islamic world, and could set off a bonfire of protest as it seems set to coincide with the Eid al-Fitr feast at the end of the holy fasting month of Ramadan.