Hurricane-force winds, surging seas and driving rain lashed western Europe on Sunday, leaving at least 53 people dead and more than a million households without power.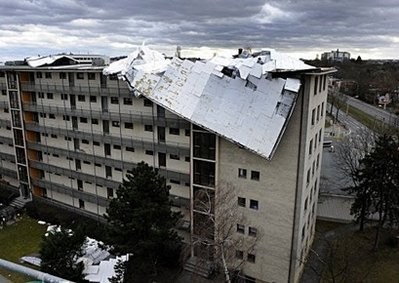 The roof of an apartment building hangs to the side of the house after the heavy storm Xynthia passed through Mainz, western Germany. (AFP Photo)
President Nicolas Sarkozy was on Monday to visit France's storm-battered Atlantic coast where some 45 people were killed in flooding and violent winds.
Dubbed Xynthia, the Atlantic storm crashed against the western coasts of France and Spain, bringing with it a band of foul weather stretching from Portugal to the Netherlands and inland as far as Germany.
The bulk of the casualties were in France, where gusts of 150 kilometres per hour (93 mph) and eight metre (26 foot) waves battered the west coast, flooding inland and sending residents scurrying onto rooftops.
Prime Minister Francois Fillon said France would formally declare the storm a natural disaster, freeing up funds to help communities rebuild, as Interior Minister Brice Hortefeux put the national death toll at "between 45 and 50".
France was to ask the European Union to release funds from its regional budget in order to help pay for recovery operations.
Minister for Europe Pierre Lellouche was to go to Brussels on Monday to see the commissioner for regional policy, Johannes Hahn, the minister's office said in a statement to AFP.
"We were warned, but I didn't think it could do this," said 62-year-old retiree Jean-Francois Dikczyk, who saw the sea surge several hundred metres (yards) inland and smash though the windows of his house.
"My mother was nearly killed. She's 83 and disabled. She was sleeping on the ground floor, and her mattress was floating. My son and I managed to get her upstairs, but it was really catastrophic," he told AFP.
In all, 45 people have been confirmed dead in France since Saturday, according to the interior ministry. Most of those lost were drowned in the flooded coastal towns of the Vendee and Charente-Maritime regions.
President Sarkozy expressed his condolences to the families of the victims and praised the work of rescuers. His office said he would head for the worst affected areas early on Monday.
Some boat owners ignored warnings and stayed onboard overnight in west coast marinas. "The boat was rolling so much it was like being on the ocean," said 60-year-old Robert Monne, who came ashore to find his car swept away.
Emergency services plucked families from rooftops with helicopters and rescue launches, and hundreds of refugees sought temporary accommodation.
Shortly after 5:00 pm (1600 GMT) Sunday state forecaster Meteo France said the storm had passed into Germany, Belgium and the Netherlands, and there were reports of high winds in the Swiss Alps.
In Germany, a motorist in the Black Forest, a female jogger in the western town of Bergheim and a man walking in a forest west of Frankfurt were all killed by falling trees.
In Spain, regional authorities said Sunday that two men aged 51 and 41 died when their car was hit by a falling tree. An 82-year-old woman was killed Saturday when a wall collapsed in the Galicia region.
Portugal said Saturday that a 10-year-old boy was killed by a falling branch and flood waters continued to rise on Sunday.
The northern cities of Porto and Vila Nova de Gaia issued flood warnings as the Douro river threatened to break its banks.
A man in his sixties was killed by a falling tree in Belgium, and emergency services were called out repeatedly to deal with fallen power lines.
In France, fallen power lines caused blackouts for around a million homes across a 500 kilometre (310 mile) swathe of the country from the Brittany peninsula to the highlands of the Massif Central.
The national power firm EDF said half a million clients were still without power at nightfall on Sunday, and Fillon said it would take several days to restore power everywhere.
Air traffic began returning to normal at Paris Charles de Gaulle airport on Sunday evening, a spokesman said, after around a quarter of flights were cancelled during the day.
Europe 1 radio reported wind speeds of 175 kilometres per hour at the tip of the Eiffel Tower in Paris, but Xynthia fell short of the record 200-kph levels of a deadly 1999 storm system, which killed 92 people.