Deadly street battles that have turned parts of the Thai capital into urban war zones are threatening to chill foreign investment for years, hobbling a nation once among the region's fastest growing but now losing its edge over rivals like Vietnam.
Some companies that can transfer operations easily — in industries like services and light manufacturing — have already started moving operations out of the country, and longer-term investors are seriously rethinking making new commitments.
On Wednesday, the government launched a new crackdown on the protests that have occupied downtown Bangkok for weeks. Thai troops opened fire into the protesters' fortified encampment, tearing down a part of its tire-and-bamboo barricade. At least two people have died and four hospitalized, adding to a death toll of 66 people since the "Red Shirts" began their latest protests in March, seeking to oust the government of Prime Minister Abhisit Vejjajiva.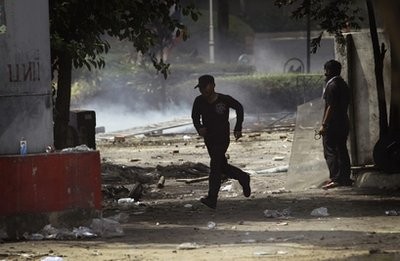 Anti-government protesters run under the fear of sniper fire at a clash point with soldiers, Tuesday, May 18, 2010 in Bangkok, Thailand.
Foreign businesses once thought of Thailand as immune to political instability, as images of sun-kissed beaches and warm, smiling people glossed over a widening divide between the haves and the have-nots.
But nearly three years of unpredictable twists of politics have marred that view. Now, with the death toll rising by the day and miles of downtown Bangkok a no-man's land — with at least 39 people killed in a week of street fighting — a picture of Thailand as an ungovernable, failing state is gaining the upper hand.
Business attitudes toward Thailand now appear to be undergoing a sea change.
"Companies are now studying really hard whether to make new investments in Thailand. The attitude has changed from before when Thailand was always seen as a nice, attractive place to come to," said Jacob Ramsay, Southeast Asia analyst at Control Risks, a political risk consultancy in Singapore.
"They are seriously doing their due diligence and wanting to see what unfolds in the next couple of months," Ramsay said. "It's affecting companies across the board from manufacturing to heavy industry."
Tourism, already battered by three years of increasingly violent protests, is now on its knees with five-star hotels and some of Asia's glitziest malls shuttered since early April by the Red Shirt occupation of a 1-square-mile (3-square-kilometer) area of Bangkok's commercial district.
Tourism, which makes up 6 percent of Southeast Asia's second-biggest economy, can quickly bounce back if the violence ends — but investor faith in Thailand's stability has received a body blow that will be harder to recover from.
"It is already damaging the image of Thailand," said Preston Chang, a Taiwanese businessman who exports canned fruit from Thailand. "Thai people were thought to be friendly, smiling and understanding. Thailand was thought to be politically stable."
That view may be irreparably changed by this month's chaos. Some experts say the current crisis is much more worrisome than previous violent episodes: clashes between student activists and the military in the early 1970s and a democracy uprising in Bangkok in 1992.
"Previous protests haven't had so much bloodshed," Chang said. "This time, the violence will damage the confidence of foreign investors."
The Red Shirt protesters say Abhisit's government came to power illegitimately and represents a Bangkok elite indifferent to the plight of the rural and urban poor.
Farmers and working class Thais are far more politicized than they were even a decade ago, raising the risk of the conflict erupting in the provinces and overstretching the army's ability to restore law and order. The military is already hard pressed to contain rioting in the capital, while a Muslim separatist insurgency in Thailand's south continually ties down thousands of soldiers.
The rot began to set in not long after the 2006 coup that ousted Thaksin Shinawatra, a telecommunications billionaire turned populist politician, as premier. The end to months of street protests in Bangkok against Thaksin's alleged corruption and abuses of power was greeted with relief by investors back then, but their optimism proved premature.
The election of a new government loyal to Thaksin in late 2007 triggered new waves of increasingly violent protests as Yellow Shirts — seen as the militant vanguard of the Thai establishment — and Red Shirts took turns paralyzing the capital. A monthslong Yellow Shirt protest in 2008 culminated in the occupation of Bangkok's two airports, stranding over 100,000 tourists, and the court-ordered dissolution of the pro-Thaksin governing party.
No one is yet predicting that manufacturers from General Motors to Japanese industrial conglomerates who've invested tens of billions in factories in Thailand's eastern seaboard industrial zone will suddenly pull up stakes. They are in a sense stuck in Thailand because of the scale of their investments.
But companies that can easily reduce their operations are doing so, while pouring more money into Thailand with new factories is becoming increasingly hard to justify. There already was bitterness about the country's unpredictability after a court banned 65 projects at one of Thailand's largest industrial estates on environmental grounds.
Without a clear sign that the instability of the past few years is over, enthusiasm for setting up shop in Thailand will continue to ebb, analysts say.
"From the look of it, this unrest will end without any resolution of the fundamental issues that divide both sides," said Roberto Herrera-Lim, Asia analyst at Eurasia Group.
"As a long-term investment destination, the unrest is likely to factor significantly into investor concerns," he said. "Any continuation of this sense of instability for the next two years will probably have effects on investment decisions that are relevant three to five years out such as building big new production plants."
Finance companies such as banks and brokerages are also likely to scale down their operations, said Andrew Yates, an executive at Asia Plus Securities, which is the Thai affiliate of Royal Bank of Scotland.
Some were forced to spread their staff over several locations across the city when backup sites became engulfed by the sudden escalation in the violence.
"You are likely to see the industry moving staff from Bangkok to places like Singapore. They will move expats who are here for shorter two or three year periods. It will be hard to move people who have made their life here," he said.
Chang, the fruit exporter and president of the Thai-Taiwan Business Association, said Taiwanese businesses from shoe to furniture manufacturers have been shifting operations to Vietnam over the past year despite it being more prone to labor strikes than Thailand. His own company, Thai Bonanza, moved some of its business to Vietnam and began exporting from there last year, aiming to reduce dependence on an increasingly unstable Thailand.
More telling, he says, is that in 2009 Taiwanese manufacturers pledged billions for building factories and other facilities in Vietnam compared to just $200 million for Thailand.
More companies are doing feasibility studies for relocating operation to other cities in the region, said Nandor G. von der Leuhe, chairman of the Joint Foreign Chambers of Commerce in Thailand. And, he warned, the potential damage will grow each day the violence continues.
"Law and order must be restored or Thailand will suffer," he said. "We cannot have a situation in which we don't know what will happen in a couple of months time."