BANGKOK, May 19, 2010 (AFP) - A curfew was extended to cover 23 Thai provinces as well as Bangkok on Wednesday night after a deadly army crackdown on an anti-government rally sparked rioting and arson in the capital.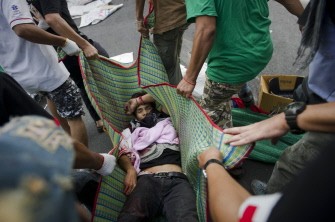 Red Shirt anti-government protesters carry a shot and wounded comrade on Ratchadamri road inside the protesters's camp in downtown Bangkok on May 19, 2010. AFP photo
Thailand's Centre for the Resolution of Emergency Situation (CRES) said in a statement it had "imposed the curfew in 23 more provinces from 8:00 pm to 6:00 am".
Anyone violating the curfew would be jailed for two years maximum or fined 40,000 baht (1,200 dollars) or both, but a government spokesman earlier said those who needed to travel should carry passports or ID and tickets.
Earlier, General Prawit Wongsuwon told AFP that the curfew would be imposed in Bangkok and checkpoints would be set up across the city.
"We are waiting until the people go back home, then we will deal with rogue protesters," he said.