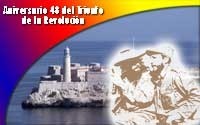 A poster on Cuban streets in the 48th aniversary of the Cuban Revolution
On its 48th anniversary, the Cuban Revolution is changing Latin American history a few miles from the US, proving that society without exploitation is feasible.
The Punto Final magazine editorial "Cuba: The Revolution Enjoys Good Health," says this country provides "broad opportunities for human development, in peace and harmony."
The Revolution has "successfully consolidated a socialist state and society" and has survived numerous US aggressions.
Cuba's achievements would have been broader without the blockade that "for many years has deserved majority condemnation via UN General Assembly resolutions the US has always disregarded".
Punto Final recalls "Cuba's example has multiplied with countries like Venezuela and Bolivia," and its 2006 GDP is 12.5 percent.
Punto Final recalls that President Fidel Castro is recovering from surgery but "that has not been the source of social unrest or conflicting interests as the US expected."
Meanwhile, Raul Castro has assumed the country's leadership and the Communist Party as well, and calls Fidel irreplaceable, a decades-long example of responsibility, sacrifice and discipline.
On the occasion of 48th aniversary of the Cuban Revolution, many countries in the world have sent the congratulation to the Cuban Communist Party, People and Government.
Brigades of solidarity with Cuba visiting the Caribbean Island celebrate the 48th anniversary of the Cuban Revolution starting Friday, announced a source from the Cuban Friendship Institute with the Peoples (ICAP).
They are 150 persons from 11 European countries members of the Northern European Brigade visiting the island from December 17 until January 7.
There are also 30 Cuban friends coming from Australia and New Zealand, members of the 24th Contingent of the South Cross Brigade that have arrived here Thursday to accomplish a visit scheduled until January 21, 2007.
The members of the brigade will make a bonfire of friendship at the Lenin Park as they usually do every year in salute to the triumph of the Cuban Revolution
The ceremony means the symbolical burning of all of the world´s injustices and social inequalities. The activity also includes samples of typical food of the countries represented.
During the ceremony the ICAP president Sergio Corrieri will make a summary of the year and will tell the participants about the organization's working perspectives for 2007.
The activity will be also attended by the Diplomatic Corps accredited in Havana and will also celebrate the 46 anniversary of ICAP.
The members of the brigades will also meet mass organizations from the Cuban society and with the family of the Five Cuban antiterrorist fighters imprisoned in US for over eight years ago.
The visitors will also visit historical, economic, cultural and social places and will take part in several conferences dealing with the current situation in Cuba.