The United States and Russia began a second day of talks aimed at replacing a landmark Cold War-era nuclear disarmament treaty that expires in December.
Negotiators met behind closed doors to thrash out the terms of a successor to the Strategic Arms Reduction Treaty (START), in high-stakes talks whose outcome could have far-reaching implications for global security.
A source in the Russian foreign ministry told AFP the meeting was underway and should conclude around 1000 GMT.
The talks are key to US President Barack Obama's desire to "reset" strained ties with Russia, but policy experts were sceptical that a replacement could be agreed before the treaty expires on December 5.
"The biggest problem on the path to bettering US-Russian relations is the colossal level of political mistrust," said Nikolai Zlobin, the head of the Russia and Eurasia Project at the World Security Institute in Washington.
"Even if it is possible to someday overcome this mistrust, it won't happen soon," he wrote in the Russian state newspaper Rossiiskaya Gazeta.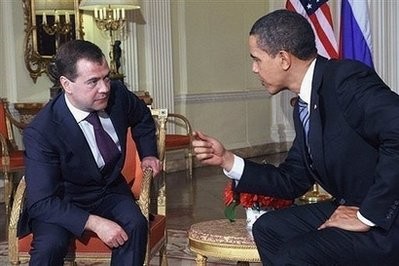 Russian Presiden Dmitry Medvedev (L) with his US counterpart Barack Obama in April.
But Zlobin said it was imperative for both countries to reach a deal on the treaty, which led to deep cuts in the US and Russian nuclear arsenals after its signing in 1991 and is seen as a cornerstone of strategic arms control.
"They cannot afford not to reach an agreement, because that would mean not only the failure of their effort to reset bilateral relations, but serve an irreparable blow for global security," he wrote.
The Russian daily Izvestia said the negotiations left room only for "cautious optimism."
"The negotiations promise to be difficult... So, it's better not to hike up the level of expectation," Vyacheslav Nikonov, head of the Moscow-based Politika think tank, wrote in the paper.
Russian foreign ministry spokesman Igor Lyakin-Frolov said the talks would continue as planned Wednesday but made clear there would be little public information about them.
"By agreement of both sides the talks will be discreet and they will only release an agreed joint statement at the end," Lyakin-Frolov told AFP.
This week's two-day negotiating session officially starts the process of finding a successor agreement, though the two sides had several preliminary meetings to help break the ice.
Productive negotiations would boost Obama's vision of a world free of atomic weapons and help set the stage for a fence-mending summit in July when Obama travels to Moscow to meet Russian President Dmitry Medvedev.
Ahead of the talks, Russian Foreign Minister Sergei Lavrov said he hoped they would be "fruitful" but also cautioned that they would be linked to controversial US plans to deploy a missile defence shield in eastern Europe.
Washington, meanwhile, has tried to keep missile defence off the negotiating table at the START talks, working to allay Russian fears that the shield is a threat to its security.
Even aside from the missile defence issue, negotiators face a tough task in hammering out a successor to the hugely complex treaty by the year's end.
Talks on START made little progress under Bush, and despite warming ties under Obama, many stumbling blocks remain.
Moscow wants a broad treaty that limits both nuclear warheads and their carriers, such as missiles and bombers, while Washington prefers to focus only on deployed warheads that are ready for launch.
The US negotiating team in Moscow is led by Assistant Secretary of State Rose Gottemoeller while the Russian team is headed by Anatoly Antonov, head of the foreign ministry department for security and disarmament.