ATHENS, Oct 20, 2011 (AFP) - Greece on Thursday faced a critical austerity vote aimed at averting a debt default as protestors rallied for a second day after violence injured dozens on the opening day of a 48-hour general strike.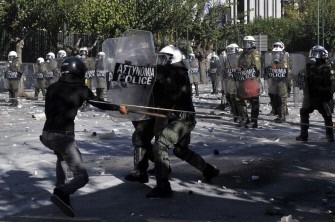 AFP - Protesters clash with riot police by the Greek Parliament at Athens Syntagma square on October 19, 2011.
The streets around parliament resembled a battle zone on Wednesday after clashes between masked protesters and riot police left at least 45 people injured and saw widespread vandalism on stores, banks and hotels in the Athens centre.
The assailants threw firebombs, street railings, paint and a hail of stones hacked off buildings at police who responded with heavy discharges of tear gas that blanketed the heart of the city.
The protesters also set fire to garbage littering the capital for over two weeks owing to a strike by municipal refuse collectors.
Police arrested five people over the violence which broke out on the sidelines of a giant turnout of 70,000 people according to the authorities, the largest seen since the start of Greece's debt crisis. Unions put the participation at 200,000.
Overall, at least 125,000 people are estimated by police to have demonstrated in major cities around the country against the government's economic policies.
Another demonstration has been called by unions for 0800 GMT on central Syntagma Square alongside plans to encircle parliament where a last-ditch austerity bill demanded by Greece's creditors heads to a vote later Thursday.
Parliament late on Wednesday adopted in first reading the new bill which introduces collective wage amendments, major tax break cuts, a new civil service salary system and temporary layoffs for thousands of public sector staff.
During the largely procedural vote in the 300-member parliament, 154 lawmakers from the ruling socialist Pasok party voted in favour; 141 opposition lawmakers voted against, and five deputies were absent.
But a number of government deputies have threatened to reject an article on wage amendments in a follow-up vote tonight.
The government has repeatedly warned that failure to pass the legislation ahead of an EU crisis summit on Sunday would prompt Greece's peers to block the release of loans and cause a payments freeze.
Finance Minister Evangelos Venizelos told parliament on Wednesday that Greece faced a "battle of battles" in Brussels and would be unable to finalise its budget without Thursday's new measures.