ATHENS, Nov 23, 2011 (AFP) - Uprooted by a national debt crisis and a deepening recession that has eaten up their jobs, incomes and pensions, many Greeks are now returning to their families' rural past in search of a future.
Just as young graduates are moving abroad rather than risk joining the 18 percent of Greeks who are out of work, families struggling to maintain their living standards are looking for a simpler life away from the city.
Elisabeth Kokoreli and her husband Vanguelis Tsaprounis quit Athens earlier this year to live permanently in their second home on the island of Evia, where he grew up.
Although they had long been thinking about a change of lifestyle, they were forced to act after the cost of raising a family in the capital, at about 3,000 euros ($4,000) a month, far outstripped their earnings.
Now, their two daughters are settled in the local school in Vassilika and Tsaprounis, a 42-year-old painter, has set about learning the farming skills needed to make the most of the land that he has inherited.
"I am very happy," said Kokoreli, a 40-year-old dance therapist. "We have a better chance at a future here. In Athens, it was a constant struggle.
"It has been a big change for me, but I like this new way of life."
Her family is part of an increasing exodus from the cities to the villages, reversing a trend dating back to World War II which has seen the population of Athens triple to four million -- two-fifths of all people living in Greece.
Agricultural labour has surged seven percent since 2008, while people who work on the land now make up 12.5 percent of the active population, compared to 11.3 percent in 2008.
Many of these new recruits are middle-aged, like Ambroise Santamouris, 50, and his partner Adriana Flores, 52.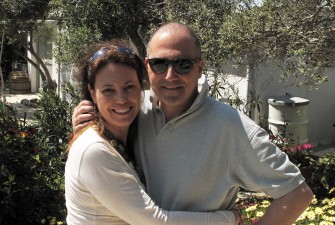 AFP - Ambroise Santamouris (R) and his partner Adriana Flores pose in their house yard at Tinos island in September 2011.
They are both journalists but have seen their industry decimated by the recession, which will next year enter its fourth year.
Santamouris lost his job at a private radio station in 2010, and in January they decided to move to the island of Tinos in the Cyclades, where he has inherited a house by the sea.
For the couple, the move was a "question of survival", he says, as well as an opportunity to change the way they lived.
"Most of the things that we thought were important, and which reflect your position in society, turned out to be worthless. And we couldn't afford them anyway," Santamouris said.
Although he would rather have retired to the island when he was ready, the prospect of finding another job in Athens, where a quarter of the 8,000 journalists in the city are set to lose their jobs this year, forced his hand.
Santamouris has now invested part of his redundancy package into setting up a news portal and online radio station, staffed by 11 journalists who are working for free until they build up their advertising revenues.
All around them, the couple see Tinos coming alive with the efforts of newly arrived migrants.
"Before, the olive groves had all been abandoned," said Flores, noting that the island now has an industrial press and for the first time, is producing its own olive oil.
Her daughter, a student in Athens, wants to go abroad to continue her education, but Flores is waiting for a place to open up on EU-funded courses so she can learn new skills to use at home, such as making honey or farming snails.
Whatever happens, island life is simpler than in the city. "Someone gives you eggs and then, when you make cakes, you give them to your neighbours," she says.
Flores knows her new life is not going to be easy, but has no choice, explaining: "Because of the crisis, there is nothing left for us in Athens."