US oil giant ConocoPhillips, already facing legal action and mounting public anger over a huge oil spill off China's northeast coast, has found nine new leaks in the same area, authorities said.
The State Oceanic Administration said on Saturday ConocoPhillips had reported the leakages near a platform in Bohai Bay jointly owned by the American company and China's CNOOC. Further details were not provided.
ConocoPhillips has said more than 2,100 barrels of oil and oil-based mud -- a substance used as a lubricant in undersea drilling -- have leaked from two platforms, reportedly polluting beaches and killing marine life in the area.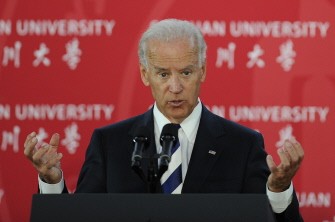 US Vice President Joe Biden speaks to students at Sichuan University in Chengdu on August 21, 2011.
The SOA -- which supervises and manages China's seas -- said last week it planned to sue ConocoPhillips over the spill which was first detected in early June.
A Chinese lawyer is also suing CNOOC and ConocoPhillips over the leaks, state media said last week.
The SOA has asked the US company to carry out a thorough investigation of the cause of the latest oil leaks to prevent similar cases, according to a brief statement.
AFP calls to the Chinese subsidiary of ConocoPhillips on Sunday went unanswered.
Fishermen in the Shandong, Hebei and Liaoning provinces that border Bohai Bay, east of Beijing, allege that oil from the leaks has killed a large part of their harvest of such seafood as scallops.
Environmental groups have also called on ConocoPhillips for speedier and more transparent clean up efforts.
Both ConocoPhillips and CNOOC have apologised for the spill, and the US company said last week it hoped to clean up the oil by the end of August.