BOGOTA, Aug 10, 2010 (AFP) - Colombia and Venezuela were expected to reestablish ties Tuesday as their leaders meet to try defuse a diplomatic crisis over accusations Caracas is harboring Colombian guerrillas.
Colombia's new President Juan Manuel Santos moved swiftly after his inauguration on Saturday to seek to end the simmering dispute between the two neighbors.
He was to meet his Venezuelan counterpart Hugo Chavez in Santa Marta, Colombia, on Tuesday, at the site where South American independence hero Simon Bolivar died in 1830.
Santos told Brazilian President Luiz Inacio Lula da Silva by telephone late Monday that the two countries were to resume ties "in the coming hours," a presidential spokesman in Brasilia told AFP.
Tuesday's meeting aimed to restore trade and diplomatic links broken by Chavez on July 22, after the former Colombian government of Alvaro Uribe claimed that some 1,500 guerrillas of the Revolutionary Armed Forces of Colombia (FARC) and National Liberation Army (ELN) were operating in Venezuela.
Relations between Colombia and Venezuela already suffered in July 2009, when Chavez froze ties after Bogota agreed to give the United States access to seven military bases to fight cocaine production and trafficking.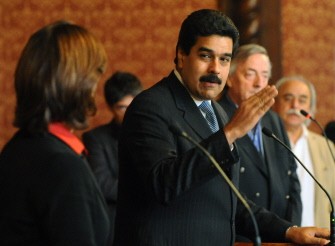 Colombia's Foreign Minister Maria Angela Holguin (L) listens to her Venezuelan counterpart Nicolas Maduro during a joint press conference after a meeting in San Carlos Palace on August 8, 2010 in Bogota. AFP PHOTO
Many observers saw the change in the Colombian leadership as an opportunity to defuse tensions that saw Chavez order troops to the border last Friday.
"The difficulty in the relations had a lot to do with the problems between presidents Chavez and Alvaro Uribe and the change of government in Colombia makes it possible to open doors," said border expert Ricardo Abello from Colombia's El Rosario University.
"I'm a great optimist regarding the building of peace between Venezuela and Colombia," Brazilian President Luiz Inacio Lula da Silva said on Monday.
Colombia and Venezuela share a vast land border of more than 2,000 kilometers (1,200 miles), and bilateral trade represented some six billion dollars in 2008.
Colombian exports however fell more than 70 percent between January and May this year, compared to the same period in 2009, according to official figures.
In his inaugural address, Santos -- who was nonetheless defense minister under Uribe -- called for "frank and direct" dialogue with Chavez.
Chavez responded by calling for Colombian guerrillas to free hostages and give up their armed conflict.
Santos also has moved to improve relations with Rafael Correa, Ecuador's socialist president and a Chavez ally.
As defense minister, Santos ordered a cross-border raid on a FARC camp in Ecuador in March 2008 that killed the guerrilla organization's number two, Raul Reyes, at a cost of its relations with Quito.
Santos has now turned over Reyes' captured laptop computer in a conciliatory gesture.
Uribe, a political conservative and staunch US ally, is still facing off with leftist Chavez, after leaving office on Saturday.
Uribe's former attorney said Monday that the ex-president was willing to testify against Chavez in a case filed at the International Criminal Court on behalf of Colombian victims of FARC violence.
Jaime Granados said that the case was filed last Friday along with another against the Venezuelan state at the Inter-American Commission on Human Rights.
Both cases related to the alleged presence of FARC guerrilla camps in Venezuela.
Uribe late Sunday used his Twitter account to call on Chavez to stop insulting him, urging the leftist leader to "stop being a coward by hurling insults at a distance."

Chavez slammed Uribe just after he left office as a "lackey of the Yankee empire," and said that during his eight years as president he took Colombia down the path of "blood and war."