Colombia's presidential election was headed for a runoff after none of the candidates received more than 50 percent of the vote, election officials said.
The announcement was made after authorities counted 99.1 percent of the ballots.
President Alvaro Uribe's pick for his successor, former defense minister Juan Manuel Santos, took a commanding 46.6 percent to 21.5 percent lead over his closest rival, former Bogota mayor Antanas Mockus, the National Registry in charge of the election said.
Since neither candidate broke past the 50 percent mark, the two now head for a showdown vote on June 20 to see who replaces the hugely popular Uribe after two, four-year mandates in office.
In a field of nine candidates and trailing far behind, were Cambio Radical's German Vargas Lleras, with 10 percent of the vote, and leftist Gustavo Petro, with six percent.
Nearly half of Colombia's 29.9 million eligible voters took part in Sunday's election, the election board said.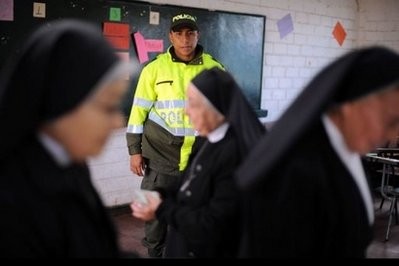 A Colombian police officer looks at three nuns voting at a polling station in Cajica, Colombia
Mockus was upbeat about the results.
"Today we've reached a goal that seemed impossible a few months ago: going ahead to a second round," he told hundreds of followers at his campaign headquarters.
"If we're creative, we'll win that second round. We know that together we can radically change our society. We know that violence, inequality and corruption are not our destiny, but problems we can overcome," he added.
Despite threats made to voters to keep away from the polls by the country's largest and oldest guerrilla group, the Revolutionary Armed Forces of Colombia (FARC), the election was the most peaceful in decades, said Interior Minister Fabio Valencia.
"Its been a total success for the forces of law and order," he told reporters. "We've slashed election-related violence by 78 percent, making this the most peaceful election day in the past 40 years."
Press reports, however, said four soldiers were killed Sunday and seven explosive devices were dismantled, as troops and FARC guerrillas clashed in southern Caqueta department.
An estimated 340,000 security forces were mobilized to secure the vote, Defense Minister Gabriel Silva said earlier Sunday.
Deputy Interior Minister Viviana Manrique said there were 118 reports of election tampering throughout the day, including illegal political propaganda and voter harassment.
Uribe, who enjoys immense popularity for bringing a greater measure of security and prosperity to a country wracked for decades by political violence, was among the first to vote.
His candidate, Santos, has campaigned on a promise of continuity, vowing to preserve the legacy of his former boss, who is credited with reducing the FARC, to half its 2002 strength.
For his part, Mockus, candidate for the Green party, centered his campaign on a return to "morality" and law in Colombia, the world's top producer of cocaine.
On the eve of the elections, Santos also made the point that the country had changed, evoking the atmosphere of unprecedented "peace and tranquility" that has surrounded the campaign.
Eight years ago, on the day Uribe was inaugurated, three rockets and a gas tank exploded next to the presidential palace, killing about 20 people.
"Nobody would dare to do that now," said Santos, pointing to an influx of investors and tourists as a sign of the newfound stability.