US Secretary of State Hillary Clinton looked to ramp up regional security cooperation and trade ties in talks with

India

n leaders Tuesday, held in the shadow of triple bomb blasts
in Mumbai.
India's concerns over the US troop drawdown in Afghanistan and its renewed peace talks with arch-rival Pakistan are expected to figure in the US-India "strategic dialogue" in New Delhi.
Clinton held one-on-one talks with India's National Security Advisor Shivshankar Menon and will later meet with Prime Minister Manmohan Singh, before flying Wednesday to the southern city of Chennai -- a focus for growing US trade and investment.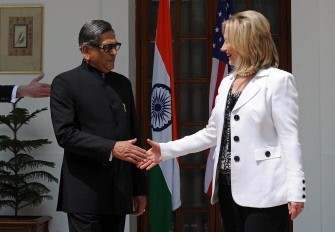 US Secretary of State Hillary Clinton (R) shakes hands with Indian Foreign Minister S.M. Krishna prior to delegation level talks in New Delhi on July 19, 2011.
Her visit follows the blasts in Mumbai last week that killed 19 people and injured more than 130.
No one has claimed responsibility, but relations between India and Pakistan have been undermined in the past by militant strikes that New Delhi blames on Pakistan-based groups.
"We believe there's been some good progress between India and Pakistan in the last few months", a senior US administration official said, adding Clinton was keen to help sustain that momentum.
"It's also about reinforcing the steps they have already taken," the official told reporters prior to Clinton's arrival in the Indian capital late Monday.
India suspended its peace dialogue with Pakistan after the 2008 Mumbai attacks, and talks between the nuclear-armed neighbours only resumed earlier this year.
Washington's own relations with Pakistan -- a crucial counter-terrorism ally -- have deteriorated since US commandos shot and killed Al-Qaeda leader Osama bin Laden on May 2 in a Pakistani garrison town, sowing distrust on both sides.
Earlier this month Washington suspended almost a third of the $2.7 billion in security assistance it provides each year to Islamabad.
Clinton will have "extensive conversations" in New Delhi on security cooperation, the US official said, and push Washington's vision for a political and economic solution to the conflict in Afghanistan and "a future in the region that is free of Al-Qaeda".
India is wary of the US troop withdrawal from Afghanistan, fearing that Islamist elements within Pakistan could take advantage of a power vacuum in the war-torn country.
Clinton's two-day trip follows President Barack Obama's visit in November -- a courtship of India that reflects the rapid growth in the country's economy and a shift in power to emerging nations as a result of the global financial crisis.
While economic ties have improved significantly in recent years, they are still seen as falling short of their potential.
A landmark deal between the two countries in 2008 that allowed India to buy nuclear reactors and fuel was meant to lead to major contracts for US firms, but those hopes have been undermined by legal obstacles and uncertainty.
And the United States was deeply disappointed in April when its bidders were dropped from the $12 billion competition to provide India with 126 combat aircraft, one of the largest military contracts of recent years.
Clinton's India visit will partly be aimed at "closing out the remaining obstacles and getting to full implementation" of the nuclear agreement, the US official said.
"The main goal is to push the pace of the strategic dialogue and to focus the agenda on a set of concrete items that are important to take this relationship to the next level," the official added.
Bilateral trade increased by 30 percent to nearly $50 billion in 2010.
On the sidelines, a series of high-level US government officials and corporate leaders met at the US-India Business Council for a discussion on building infrastructure in India -- an area of potential for foreign firms.
The US is "committed to helping transform India's infrastructure from an obstacle to sustainable growth to an engine of it," said Elizabeth Littlefield, the chief of the Overseas Private Investment Corporation, a US agency.
Clinton, who was in Athens on Sunday to offer support for the Greek government as it tries to tackle its perilous and worsening debt crisis, is scheduled to head on to China, Hong Kong and Indonesia.